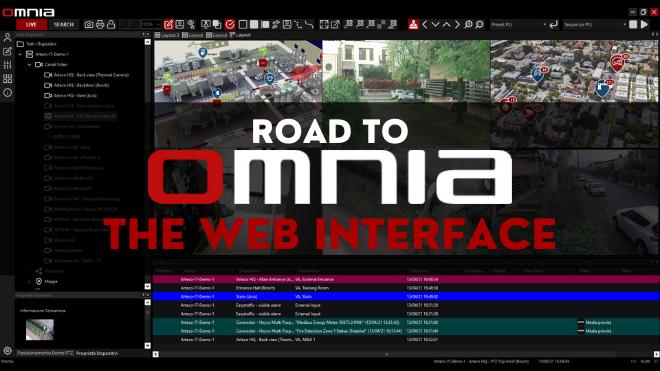 You have already heard that June 30th is the official release date of the OMNIA desktop interface, but there is still more exciting news about the upcoming OMNIA software launch. It is time to introduce one of the most promising developments of the OMNIA project: the OMNIA Web interface.
Can you imagine bringing a complete VMS always with you on your mobile platform, without giving up any functionalities? With the OMNIA Web interface you can! The OMNIA Web interface matches all the Desktop features with the power, speed and functionalities of a web application. Now, the full power of your VMS functionality is literally close at hand.
---
ADAPTIVE LAYOUT
Making a new grid layout in the LIVE environment of OMNIA Web takes a click and a few seconds to launch. Once you log in with your personal credential, you just need to connect the servers and the device tree will automatically populate with the related devices.
Watch the video below to see the incredible flexibility of the adaptive layout  "Free Mode View".  Customization is the key!
---
FOCUS ON THE EVENTS
The log of events in the web interface includes a further tool to filter the long catalog of notifications and increase the focus on what really matters. The filters can be easily selected from a set list and the events are classified immediately.
---
GEOLOCATED MAPS
Geolocated Maps are now officially available in OMNIA through the integration of Google Maps.  Users that are familiar with Google will recognize how easy the Maps are to set-up, browse, and even locate your cameras in "Street View".
---