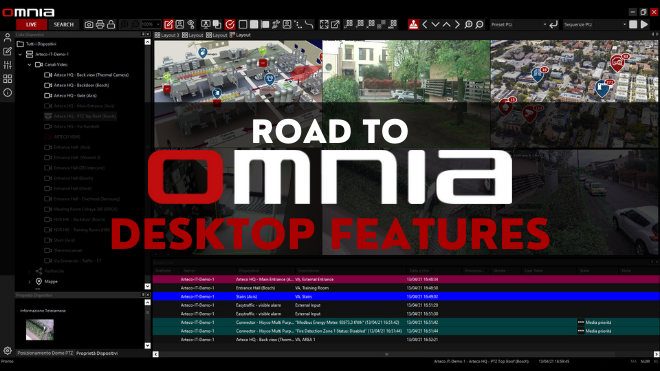 In the last week's newsletter, we presented some of the main news introduced with the OMNIA desktop GUI: the design of the dashboard was conceived to improve the user experience and provide customers with a fully integrated and intuitive view of the security system. READ MORE HERE
Today, we are focusing on features that will speed and smooth the job of integrators and security officers.
---
GPU acceleration 

Compared to competitors and the previous Arteco software, OMNIA employs the graphics processing unit (GPU) along with a computer processing unit (CPU) in order to facilitate processing-intensive operations such as deep learning, analytics and video processing.

As a result of this significant improvement, OMNIA comes with optimized multimonitor management that takes advantage of parallel architectures that can easily handle multiple tasks in parallel.
---
Multiple device addition
As mentioned last time, OMNIA presents a new configuration environment designed to keep the setup stage separated from the everyday use of the VMS.
The configuration environment is featuring a useful tool for the addition of multiple devices in few seconds. In the following video, you can see how fast and easy it can be: it only requires the IP sequence and the software will automatically add video channels to the device list.
---
Exportation of the videos from multiple channels
The SEARCH environment has undergone great changes in terms of graphics and has a big new functionality: the exportation of video clips with multi-channel selection.
The video shows the few steps needed to browse and select the video tracks and events: users can easily pick multiple devices and freely set the time span, and exportation will run smooth as silk.
---