Software Solutions
The newest version of Arteco NEXT, the master controller of the Video Event Management Software (VEMS), is easy, powerful, scalable and reliable. SEEtheDIFFERENCE by choosing the camera license with the feature set that best suits your video security needs. Arteco NEXT is included for FREE with every camera license allowing users to easily and quickly expand their IP Video world from a single-server, lower camera count installation with Pure or eMotion to a higher, multi-server environment with Active and Extreme.
Arteco NEXT is so easy, thousands of systems worldwide are already realizing the difference!
Contact us today to find the version that best suits your needs and apply for a trial installation.
---


Take full control your video surveillance system from anywhere, quickly and easily at the touch of your fingertips whether you are using one or more monitors or video wall systems. With NEXT's specifically designed graphical interfaces, video retrieval, direct management of alarms, video analytics, or access control events are made easy from the start. Take advantage of our client's world-class cutting-edge features! Starting from 1/1/2018, new releases of ARTECO NEXT will be able to manage VMS Server version 4.0.3 -build […]
---


This version of Arteco PURE includes a license for 10 IP channels and now it is completely free! It includes: storage functions on local and network devices ONVIF support network I/O management unlimited number of users Registration takes less than a minute so fill out the form below to access it right away!
---


Essential, simple and efficient: Arteco Pure is the ideal software solution to monitor small-to-medium sized venues and infrastructures. Thanks to its clear and friendly interface, you can manage up to 20 cameras running on a single server. Arteco Pure is able to control PTZ cameras and encoders, and convert old analog units into innovative digital systems, which you can access both via Arteco Client on PC desktop and via web browsers on mobile devices. Perfect for small to medium sized venues Manage […]
---


Arteco eMotion is the VMS that grows with you: designed to customize your level of security, it runs on a single server and manages an unlimited number of users connected simultaneously. eMotion can be expanded, which makes it perfect for small-to-medium sized systems. It is user-friendly too, as you can integrate further security devices anytime (e.g. access control, intrusion alarm, LPR). Complete control of medium sized venues Unlimited number of cameras on a single server Expandable with optional plug-ins Contact us to learn […]
---

Created to secure medium-to-large sized venues, Arteco Active runs an unlimited number of servers, cameras and devices installed in different venues: it is the right solution for monitoring extensive systems. The research and resolution of events is simple and immediate with the dynamic maps and the advanced video analysis features in Arteco Active. It results to be particularly effective if installed in museums, hospitals, institutional buildings and production plants, and, with the implementation of Arteco Video Wall, provides control rooms with an incredible tool for assessing […]
---


Arteco Extreme is the ultimate solution for video management: it provides superior performances and a complete control for securing large and critical infrastructures. Arteco Extreme includes advanced tools for event management, video analysis and disaster recovery, that is Auxiliary Storage and Storage Failover (optional), to assure reliability, operational continuity and an endless exchange of data. Moreover, the software includes Arteco Video Wall as a standard feature, to let users and control rooms manage and share an unlimited number of cameras, servers and third parties' systems, […]
---

Arteco Open Connector is the integration platform that make the interoperability between systems, devices and different types of applications more intuitive and easy than ever imagined. FLEXIBLE Arteco Open Connector goes beyond the concept of open platform, giving the partners the ability to integrate systems in total freedom and allowing them to customize every aspect of the interface, adapting it to every kind of installation and placing the needs of the end customer in focus. EASY Interoperability is remarkably simple with […]
---


Integration between different devices is becoming increasingly necessary in the security world. Arteco LPR combines license plate reading with video surveillance, increasing the level of security and control of each installation while maintaining ease of use, sensible costs, and optimization of resources. FLEXIBLE There are many areas in which the Arteco LPR Plugin can be applied: access control, crime prevention and control of territory, employee time/attendance monitoring, and many others. Depending on your needs, there are two different approaches to license […]
---


EasyTraffic is a Web-based software solution that manages information from license plate recognition (LPR) cameras, providing users with critical data about vehicular traffic within a designated area. EasyTraffic acquires images from LPR-enabled cameras and combines them with high-resolution images from IP cameras to deliver details of the license plate and a wider, detailed view of the environment. EasyTraffic is flexible and expandable, and is designed for various events including: Watch list management and alerts Vehicle identification (cars, trucks, motorcycles, etc) […]
---

The Arteco NEXT Contact-ID plug-in offers customers unprecedented integration with fire and intrusion alarms, enhancing event management and further streamlining business operations by increasing communication and connectivity between third-party devices. Contact ID is widely recognized as the most common standard protocol in the intrusion and fire alarm industry, containing user ID information and alarm information as well as alarm systems' status information. The Arteco Contact ID plug-in enables users to receive associated alarm events within the Arteco NEXT VEMS interface. […]
---


It increases the situational awareness of the operators, optimizing every decision-making process and allowing to better organize the activities, reducing costs. Arteco Videowall is the solution designed to meet the most specific needs required in control rooms and by security organizations, which allows you to effectively manage all the systems and devices installed, optimizing the management and supervision of the systems and ensuring flexibility and responsiveness between different operational centers, also located in different places, as well as with external […]
---


Arteco Security Connector (ASC) is an add-on product to Arteco NEXT VEMS that enables you to integrate and manage a wide variety of IP security systems, such as intrusion alarm panels, fire detection systems and devices running the Modbus protocol, on one centralized interface. ASC comes as a very intuitive tool, capable of converting events into standard protocols compliant with Arteco Open Connector and NEXT, allowing users to receive events and have remote control over groups of sensors and alarm […]
---


Arteco LPR Server is a software solution installable on a Windows-based server that is designed to enable license plate reading on standard IP cameras and to make traffic analysis, vehicle identification and automation of security and surveillance procedures easier. SCALABLE The Arteco LPR Server does not require the presence of specific LPR cameras, it is sufficient to provide good quality video streams,. Arteco LPR Server can also be configured to manage license plate lists and remotely trigger relays, facilitating the […]
---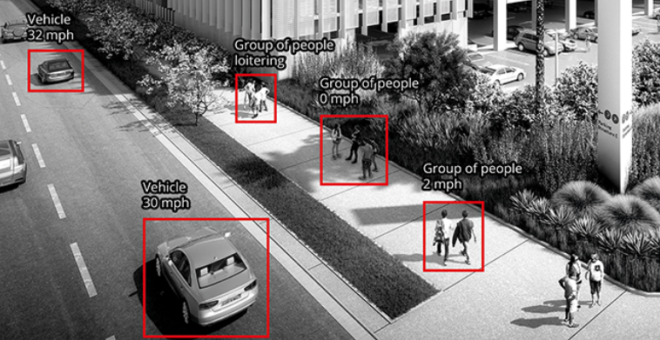 Arteco VCA is the video analysis server that brings your Arteco Extreme VMS license to the most advanced level of intelligence: it allows automatic recognition of people, objects and vehicles; motion detection and the application of filters and zones directly on video streaming in real-time. Thanks to the application of Arteco VCA analysis algorithms, you can get incredible advantages in terms of efficiency, reducing costs and risk margins due to surveillance entrusted exclusively to the management of security personnel. METADATA […]
---