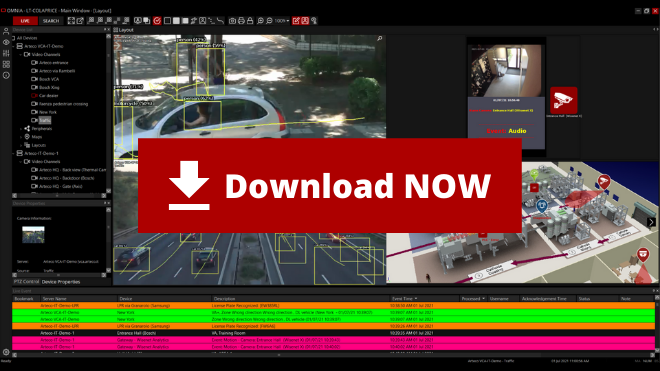 A completely new user experience, easy and powerful video management: these are the features of the first of the OMNIA products available from today.
OMNIA Desktop Client
Download OMNIA here below and contact your sales representative to get all the benefits of the new client.

---
Conceived as a unique platform for the management of a wide range of applications and devices, both from Arteco and numerous manufacturers in the world of security and automation, OMNIA is the ideal tool for managing, monitoring, and immediately accessing countless devices.
Easy and intuitive event log

In addition to sorting the events according to selected criteria and accessing them, the size of the log chart is completely customizable and adaptable to the screen you have available in your workstation.

Exportation video from multiple channels

In the SEARCH environment, users can easily choose multiple devices and freely set the time span to quickly export video clips from multiple channels.

Adding devices

The new configuration environment comes with a useful tool for adding multiple devices in a few seconds.

Interactive Maps

Arteco Maps let you organize and locate all the devices installed on a dynamic graphical interface, with customizable icons, live & recorded video preview

LPR & Traffic

Receive data from plate reading cameras or apply the Arteco OCR engine on supported cameras, making
it possible to classify events and manage dedicated solutions for traffic control.

OMNIA VCA 

Motion detection and application of filters and zones directly on the live video stream, OMNIA VCA allows automatic recognition of people, objects and vehicles.
---