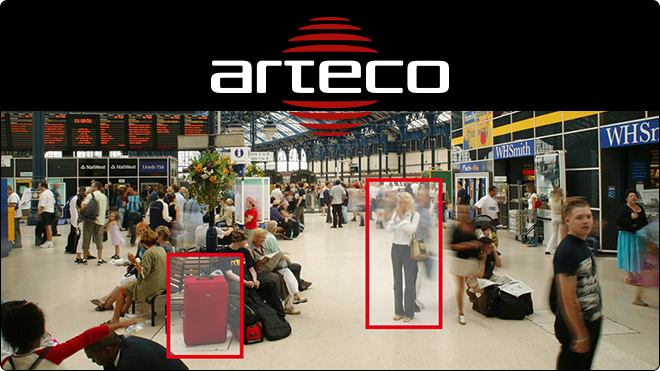 Video Analysis is one of Arteco's strong points. We have a comprehensive offer that can be even more exhaustive with integrations and plug-ins that give us the chance to give our customers made-to-measure solutions.
Arteco VMS have been designed to be scalable and modular, to comply with the size of installations, the number of devices and the need of analysis. For these reasons, every VMS includes an analysis pack that ranges from the basic motion detection of Arteco Pure to a much powerful engine with a configurable set of filters in Arteco Active and Arteco Extreme.
But there is even more!
Thanks to the open structure of our software, Arteco present infinite chances of extension. We work with major camera manufacturers to implement on-board video analysis into our video management software.
BOSCH

Thanks to the partnership with Bosch, through Arteco NEXT it is possible to receive events from the powerful Video Analytics modules engineered by the manufacturer.

Intelligent Video Analytics | Essential Video Analytics

AXIS

The integration with Axis modules and products allows to receive snapshots and detailed information about alarms. The Arteco VMS links the alarm with the Video (Live and Recorded) in order to provide a further evidence.

Video Motion Detection | Perimeter Defender | D2050-VE Network Radar

DAHUA

Events generated by Dahua's set of algorithms on board of cameras, including the bi-spectrum thermal, are now receivable on Arteco VMS by the means of a snapshot and alarms and links it with the video.

Intrusion Detection | Motion Detection

HANWHA WISENET X

The ability of the Arteco VMS to receive video and audio events provided by Hanwha's devices is a great help for customers across the globe.

Motion Detection | Face detection

HIKVISION

The Analytics modules on board of the impressive IP camera range of the Chinese manufacturer are now manageable by Arteco NEXT, which alerts operators in real-time with video, snapshots and event details in a comprehensive yet intuitive interface.

Motion Detection | Intrusion Detection | Loitering Detection | Indoor Detection | Sabotage Detection
---