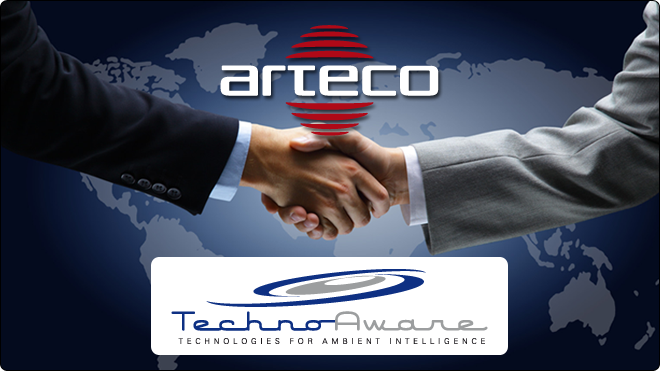 Arteco is proud to announce the birth of a strategic partnership with TechnoAware, a choice dictated by their common will to present an innovative, highly performing and synergistic proposal to the international market.
The integration of the algorithms used in TechnoAware, an Italian company founded in 2003 that produces technologies and solutions for intelligent environments, fully meets the objectiveof Arteco to make the interoperability between systems, devices and applications of different kinds easy and intuitive. In this case, by providing a solution that will appeal to anyone looking for a VMS with the most powerful and reliable video analysis algorithms and intelligence environment.
Now you can manage all events provided by VTrack, the Video Analytics platform created by TechnoAware that helps detect, classify, track automatically and in real-time entities (people, vehicles , objects, …) or events of interest by using the eMotion, Active and Extreme Arteco NEXT solutions. This solution comes with extreme simplicity, both because the integration is based on easy-to-implement standard communication protocolsand also because the modular and interactive Arteco GUI makes understanding video events even more clear and intuitive.
Gianluca Mauriello, Business Development Manager of TechnoAware, says: "The partnership with Arteco represents how the synergies between Italian companies can be excellent in terms of performance and technological features but, above all, bringing innovations in key markets such as security and beyond.Our daily commitment is to provide a software platform for Intelligent Video Analysis, based on Self Learning Background Modeling algorithms, that can deliver results as quickly and efficiently as possible. "
Maurizio Barbo, Sales & Marketing Director of Arteco: "The video analysis integrated into the Arteco NEXT Video Event Management Software allows an instantaneous and permanent analytic of any video stream, increasing the user's proactiveness which is suitable for all markets.  The close cooperation between our companies promotes solutions that go beyond the security market, from  transportation, logistics, financial and banking institutions, up to the retail and the monitoring of public and private areas.  This brings benefits in marketing and multimedia as well, where you can get both functional and economic profits. "
Arteco and TechnoAware: advanced technologies for everyone.
---