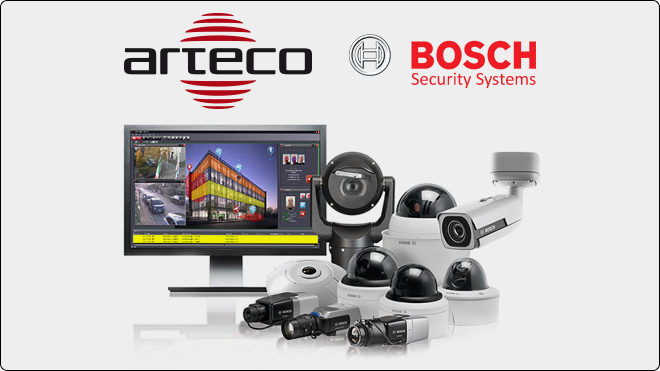 Faenza, Italy, Nov. 20, 2017 – Arteco, a global provider of event-driven intelligent video management solutions, announced today that its Video Event Management and Video Intelligence Solutions are now integrated with Bosch Security Systems IP cameras and security devices. The close integration between Bosch technologies and Arteco's NEXT video event management system (VEMS) will support more of Bosch's core functions, leading to stronger security and advanced capabilities to build advanced intelligence.
Joint customers can now leverage the full power of Bosch video surveillance cameras through the Arteco VEMS platform, enabling higher levels of situational awareness, easier video search options and image dewarping. Additionally, the combination allows for a wide range of functionalities including 4K Ultra HD video streaming and recording, automatic discovery, bi-directional audio support, I/O monitoring and Bosch embedded Essential and Intelligent Video Analytics.
The technology partnership delivers greater insight to applications in a wide range of vertical markets including retail, Safe City, critical infrastructure and transportation. Overall, this close collaboration allows partners and users the opportunity to gain access to more detailed information about security events and build new levels of business intelligence from the combined solutions.
"At Bosch we are dedicated to innovating security where you need it most.
We constantly push the boundaries of technology to develop intelligent solutions that reach further than today's security demands and deliver clear business advantages beyond security.  As a company focused on expanding options for our customers and offering increased flexibility, our integration with Arteco is an important step toward enabling end-users to take full advantage of high quality video images and associated metadata such as object type, direction, size, color and speed. This is only the beginning of our close relationship with Arteco as we expect this partnership to grow and expand to benefit a wide array of customers across the globe," said Stefano Riboli, Marketing Video Systems Italy of Bosch Security Systems.
"Our partnership with Bosch and our ongoing efforts to develop a wide integration library demonstrate our collective commitment to providing customers with a variety of technology options that allow users to realize unmatched video quality, ease of management and simplified deployments," said Giampaolo Sabbatani, CEO, Arteco.
---
---