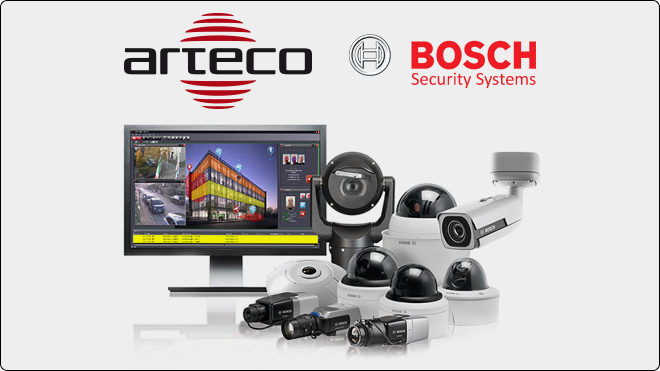 A key component of technology integrations between security companies involves offering increased options and flexibility to customers. Users are always striving to gain the most relevant data and information from their devices in the most efficient manner, and when it comes to surveillance cameras and video management systems, enhanced collaborations are critical to take product performance to the next level.
That's why Arteco has strengthened its partnership with Bosch to deliver its latest integration. We are excited to announce that Arteco Video Event Management and Video Intelligence Solutions are now further integrated with Bosch IP cameras and associated devices. This high level of integration between Arteco's NEXT video event management system (VEMS) and Bosch technologies delivers advanced functionality and capabilities to their joint customer base.
With users now able to leverage the full power of Bosch video surveillance cameras through the Arteco VEMS platform, situational awareness is enhanced, ultimately leading to stronger and more comprehensive security. Easier video search options and image dewarping build advanced intelligence, and make analyzing and responding to events a simplified task.
Joint customers can take advantage of a wide variety of feature sets through this collaboration, including 4K Ultra HD video streaming and recording, automatic discover, bi-directional audio support and Bosch embedded Intelligent Video Analysis event management. Arteco NEXT can also monitor and trigger both virtual and embedded physical I/O on Bosch IP cameras, facilitating streamlined I/O management.
This technology partnership meets demands in a wide variety of markets, such as retail, Safe City, critical infrastructure and education. In almost every environment, security officials must obtain more detailed information about events in order to react quickly and appropriately, and this integration enables them to do just that. From video surveillance to license plate capture to fire and intrusion alarm systems, the relationship between Bosch and Arteco will continue to grow and bring more possibilities to customers across the globe.
---
20 November 2017
· Category:
Blog