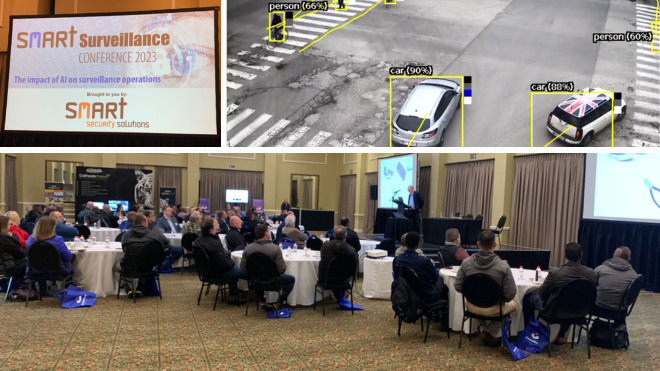 SMART Security Solutions hosted a conference at the Indaba Conference Centre on 3 August 2023, focusing on the surveillance market, with a specific emphasis on edge vs cloud technologies, and of course, AI.
Dean Sichelschmidt, Managing Director of Arteco Global Africa spoke about what AI can do for surveillance operations as well as advise on making the cloud/edge/server (or onsite) decisions we are faced with today.
In terms of the benefits of AI, Sichelschmidt said the technology allows for automated surveillance over broad areas instead of having people watching multiple cameras simultaneously. With software that alerts you when certain parameters are met, assuming the parameters are set properly, organisations improve resource management in terms of personnel, bandwidth reduction and processing requirements.
This leads to better detection of crime and the ability to link people and other objects across time spans by improved searching and detection capabilities. It also gets the nuisance alerts, such as moving branches, out of the way so that human resources can be applied to real issues. However, he says that while the backend of an AI analytics system is always complex, the frontend must be easy to use so that operators don't have a steep learning curve and don't have to focus on complex configurations or processes to get the information they need.
Sichelschmidt went on to discuss the pros and cons of cloud, server or onsite surveillance solutions, ending by noting that there is not always a standard solution and different scenarios will require unique technology solutions to get the best results for that environment's needs.
This is excatly what Arteco provides with its software solutions for security and automation.
| | |
| --- | --- |
| | |
| OMNIA Hybrid Cloud is a cloud-managed solution that eases the management of licenses and creation of users to offer the power of a desktop VMS through a web platform that requires one thing only: internet connection. | OMNIA VCA automatically pulls meaningful and relevant information from video streams to detect people, objects and their surroundings. |
| | |
| OMNIA LPR Server is a software solution designed to enable license plate reading on standard IP cameras and make traffic analysis and vehicle identification. | OMNIA Insight classifies and processes data collected from the system to produce intuitive and easy-to-interpret diagrams on the functioning of the security system. |
---
1 September 2023
· Category:
Blog