Every security professional and VMS user knows the importance of having flexible and effective tools to constantly monitor the events onsite and keep the highest level of security and efficiency. This is particularly true when it comes to eventual investigations or verifications of events related to crimes and accidents: real-time monitoring, then, is not enough, neither is focusing on alarms reconded in the events log. What your security operator needs is a tool for searching and viewing events in a specific portion of a recorded video, thus reducing the possibility of facing false alarms and increasing the chances of retracing related occurrences.
That tool is named Smart Search, updated and released with the last development of Arteco NEXT, available for eMotion, Active and Extreme license. The Smart Search is based on Arteco video analysis for Violated Area and Object Removed / Abandoned, and gives easy access to the recording flow for researches in retrospect.
How it works
Smart Search can only be done on one camera at a time. It will, therefore, be necessary to position yourself in the RECORDINGS environment and search for the recordings on the basis of the required time frame.
Select a camera
Select the time interval (using time bars, as for export)
Click on the highlighted button

A screen will open that will allow the user to set an area in which to search.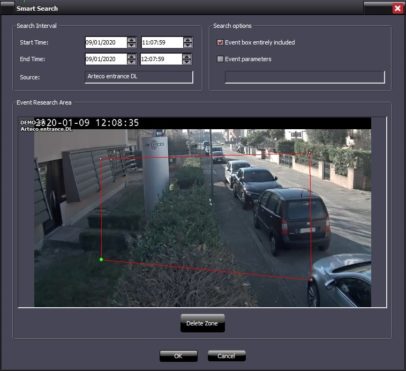 Click OK once you have defined the Smart Search Area. The results of the research will populate the Events History panel and you will be able to double click on the desired event to start playback of the recording.
---