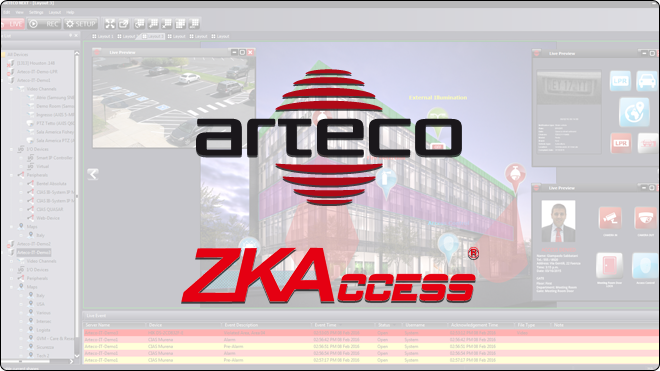 St. Louis, Mo., January 18, 2017 — Arteco, a global provider of video event management solutions, today announced its integration with ZKAccess access control platform. The integration of access control and video surveillance is of growing interest to end users in a wide variety of markets, which propelled both companies to seek a partnership to provide customers with the ability to combine data into a single management platform.
Arteco Video Event Management Software (VEMS) is now integrated with ZKBioSecurity software platform through Arteco's Open Connector, an integration platform that streamlines interoperability between third-party systems and the Arteco VEMS platform. Access control events from ZKBioSecurity software are presented in the Arteco VEMS interface in real time, allowing joint customers to gain greater insight to make more informed decisions and facilitate faster response.
"ZKAccess is a leading provider of biometric, RFID and access control solutions with significant reach across the globe. When seeking an integration partner in the video surveillance segment, we wanted to partner with an organization with the same global footprint because the demand for access control and video integration is not unique to the U.S. market," said Larry Reed, CEO, ZKAccess. "Arteco is an ideal partner because of its event-based, open video technologies and its focus on ensuring customers have access to the most important information to make informed decisions at any given time."
"At Arteco, our mission is to enable our customers to gain insight to the most important events across their infrastructure to increase safety and maximize business efficiencies," said Steve Birkmeier, Vice President, Sales and Business Development, Arteco. "ZKAccess is a leader in the access control market for its ability to provide robust, cost-effective solutions that help reduce risk. Working together, our customers can realize the benefits of video and access integration to ensure a more informed, proactive security posture."
Tweet
@artecoglobal integrates VEMS with @ZKAccess access control solutions.
Additional Resources
Arteco VEMS
Arteco Partners
Arteco Success Stories
About Arteco
Founded in 1987, Arteco is a global provider of event-driven intelligence solutions based in Faenza, Italy, with U.S. operations in St. Louis, Mo. With a focus on ease of use and event management, Arteco's research and development initiatives have united world-class, state-of-the-art video analytics and video management onto a single-platform to optimize processes and reduce costs. Arteco provides a wide range of software and network hardware solutions that integrate with third-party systems such as video surveillance, video management and access control. Arteco products are available through certified integrator partners around the world. For more information about Arteco's Video Event Management Software (VEMS) solutions, please visit https://www.arteco-global.com and follow on social media channels: LinkedIn, YouTube, Twitter and Facebook.
About ZKAccess
ZKAccess is a leading provider of fingerprint, face, finger-vein and RFID solutions. Product offerings also include Near & Far-range Facial Recognition Cameras, Elevator/floor access controllers, License Plate Recognition (LPR) Gate Controllers, Turnstiles, Metal Detectors and Consumer products including fingerprint-based battery-operated Biometric Door Locks. Its solutions are multi-lingual and localized in over 18 different languages. ZKAccess designs specialized products for specific markets and provides local support to all its customers. Its U.S. facility includes a large experience center and warehouse in Fairfield, NJ. ZKAccess is a division of ZKTeco, a leading global developer of security and time management solutions. ZKAccess is synonymous with technical innovation, quality, speed-to-market and reliability. For more information, please visit http://www.zkaccess.com/.
Arteco Media Contact:                                              ZKAccess Media Contact:
Delphine Thierry                                                                 Erin Harrington
O: +1.832.594.1043                                                            O: 631.365.4517
E: delphine@compasspublicrelations.com                   E: erinharrington1115@gmail.com
---