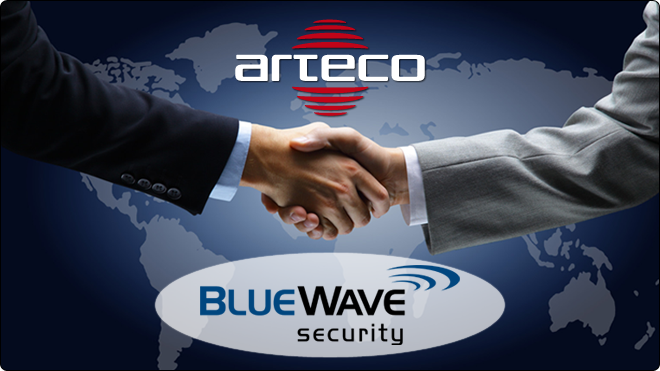 Open Connector tool eases integration complexity between solution providers
St. Louis, Mo., July 18, 2016 – Arteco, a global provider of event-driven intelligent video management solutions, announced today its integration of BlueWave Security access control solutions. BlueWave leveraged Arteco's Open Connector, an integration platform that make the interoperability between systems and devices and provides an intuitive process to leverage the full power of the Arteco Video Event Management (VEMS) system.
Arteco's event-driven intelligence platform is now integrated with BlueWave's full host of scalable IP access control systems. This strategic initiative enables joint customers to enhance the situational awareness and security intelligence while further driving technological capabilities. Users will be able to correlate data between the video management and access control systems to gain greater insight into security operations and risk management. The integration broadens each company's reach in the target markets of education, healthcare, retail and enterprise applications.
"Next-generation access control solutions require a technological complement within the security profile that taps into the wealth of information coming in from all other devices," said James Botek, Director of Product Marketing, BlueWave Security. "Whether customers prioritize ease of deployment, ease-of-use or scalability, the integration enabled by Open Connector allows BlueWave customers to take advantage of a customer-centric partnership and realize the power of event-driven intelligence."
"Arteco is strongly committed to providing its customers with scalable, interoperable solutions that address a wide variety of needs while delivering new levels of intelligence," said Steve Birkmeier, Vice President, Sales and Business Development, Arteco. "BlueWave is a leader in the access control market, and by enabling integration with its platforms, joint customers can capitalize on the value of combining information from multiple systems into one interface to make informed, proactive security decisions in real time."
More Information:
---