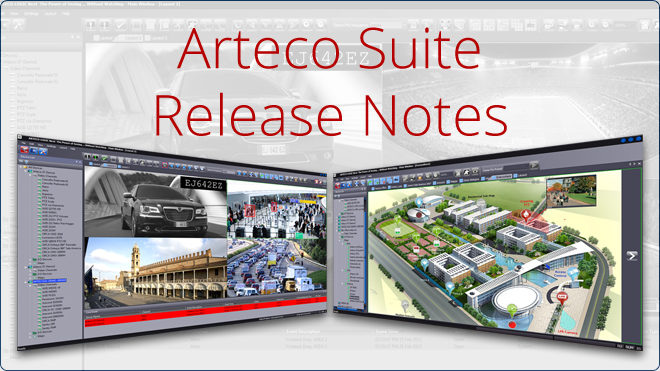 HAPPY NEW YEAR!
Arteco is proud to announce the features and in-house developers of our new Arteco Suite 4.0.8 [1158] release which include a host of new features and bugfixes, plus the ground-breaking Contact ID protocol feature and the Arteco-LPR.  Click on the titles to read our news articles and press releases related to them.
Let's hit the ground running in 2015!
FEATURES:
Management of alarm panels according to the Contact-ID protocol by means of an electronic chip provided by Arteco. The chip is installed in the alarm panels and is connected directly to the emergency auto dialer. The system is accessed through the network and the alarm signals are automatically sent to Arteco's servers within a few seconds.
Arteco LPR has been developed to be installed directly on the IP Samsung cameras based on the new Wisenet III microprocessor and according to Samsung's official SDK. The application allows Samsung cameras the ability to recognize automobile license plates and has been integrated in Arteco NEXT. When activated in the Arteco NEXT platform, the LPR application reads and stores license plate numbers in an easily manageable database archive. The archive allows users to quickly and easily conduct meaningful queries and to set up events, such as email messages, SMS notifications, or remote I/O device activation to open and close gates.
ARTECO-VIEWER IN ARTECO NEXT
 When installing Arteco NEXT (via server), the end user can now also install Arteco VIEWER to view recordings. As a result, the end user will be able to choose the correct software to view a video stream.
LOOX CAMERAS INTEGRATED IN ONVIF
VIDEOSERVER AXIS M7014 a 4ch VIDEO INTEGRATED
BUGFIXES:
 There was an issue with the management of the calendar between Saturdays and Sundays. Scheduling of recordings, plugins, and output now function correctly.
ARTECO-SERVER DEADLOCK RESOLVED
Server deadlock resolved when PTZ sequences are activated.
RESOLVED "CANCEL" KEY ISSUE DURING SEARCHES
The "cancel" key's functionality during search queries of recordings has been fully restored.
RESOLVED SAMSUNG PTZ MOVEMENT ISSUE
Issue leading to a slowdown of the zooming mechanism in Samsung PTZ cameras now resolved.
RESOLVED ISSUE RELATED TO MANAGEMENT OF OFFLINE ICONS ON THE MAP
Issue regarding the automatic cancellation of Arteco Everywhere and StartIP icons from maps now resolved.
---

Necessary

Statistics

Targeting