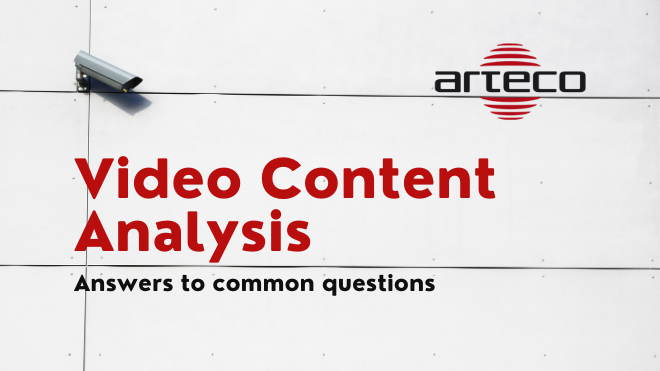 Video camera surveillance systems are commonly used in the private as well as in the public sectors. Institutions, law enforcement agencies, retail and manufacturing entities, banks, and companies need surveillance systems to provide 24/7 live monitoring of buildings, facilities, and other physical assets, as well as archive video footage. However, companies have to face the impossibility for security staff to monitor each camera constantly, which causes an evident breach of the expected situational awareness. In real life, far from the idealistic risk management plans, security teams don't have time to review the incredible amount of footage generated by video cameras whether live or in a post-incident investigation.
Video content analytics software (VCA) was created to bridge this gap and to enhance the value of traditional video surveillance: with video content analysis you can automatically identify objects in the video footage (people, vehicles, and group of people), and indexes them so that footage can be easily and quickly searched and analyzed.
However, despite the clear advantages deriving from the use of filters to classify moving objects and catalog events, most people consider the VCA as an expensive frill conceived to raise the price of traditional security systems. Arteco VMS, though, was designed to focus exactly on events and proposes to the market a wider range of video analytics solutions to meet the needs of a larger audience and spending power range.
On the one hand, Arteco has developed a powerful video analysis server called

Arteco VCA

that adds a further layer of intelligence to Arteco Extreme VMS licenses.  It allows automatic recognition of people, objects and vehicles; motion detection and the application of filters and zones directly on video streaming in real-time.

The detection of moving subjects generates metadata that appears in real-time in video streaming and also simplifies the forensic research after the event, producing incredible advantages in terms of efficiency, reducing costs and risk margins due to surveillance entrusted exclusively to the management of security personnel.

Arteco VCA can be useful for post-incident investigations; to generate metadata reports about video activity; to enhance security situational awareness in real-time.
On the other hand, Arteco can count on tight partnerships with world-renown camera manufacturers. The extreme openness of the Arteco software allows for full integration of camera-edge video analysis from popular and leading brands:
AXIS
By integrating AXIS cameras into Arteco software you will be able to centralize the whole security system in a single interface and analyze real-time video streams with a specific focus on perimeter detection, face detection, motion detection and system diagnostics.  
BOSCH
Similarly, the collaboration with Bosch in on-field applications led to the integration of their onboard analytics, so that users can get notifications directly on the screen in case of moving objects and people, fire and tampering.   
HANWHA TECHWIN
The long-standing relationship with Hanwha Techwin has resulted in the integration of video analytics provided by the Wisenet cameras: many security systems in the world today use Arteco interface to manage notifications of face detection, motion detection, audio analysis and tempering provided by Hanwha on-field applications.
Video analysis is much more than a frill with Arteco. You just have to contact us to know more and get a free assessment of the solution that better fits you.
---
20 April 2021
· Category:
Blog