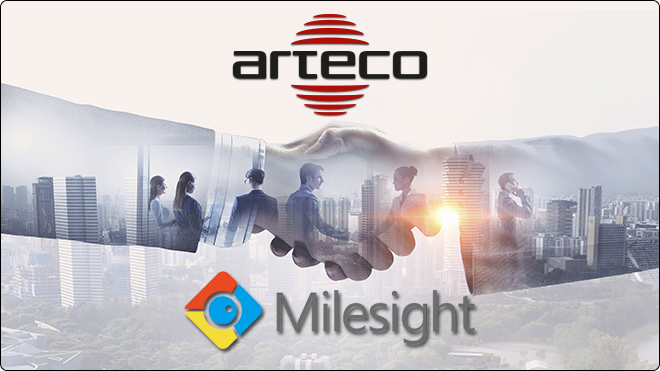 Arteco is very happy to announce a new exciting collaboration with one of the most promising names of the security industry: Milesight.
Established in 2011, Milesight is a high-tech company, specializing in design, developing and manufacture of best-in-class video surveillance solutions including Network Cameras, NVRs, Software and APP with superior image quality, exceptional flexibility and reliability for the global market. Milesight markets its products through a worldwide network of distributors and resellers, offering excellent pre/after-sales and technical support services that exceed customers' expectation.
In particular, Milesight and Arteco started their collaboration with the integration of an LPR vandal-proof motorized mini bullet network camera named MS-C2964-RFLPB:
KEY FEATURES
License Plate Recognition (LPR/ANPR)
Embedded in the LPR Vandal-proof Motorized Mini Bullet Network Camera, the LPR allows the camera to capture real-time license plate in both the highest levels of glare and the darkest hours of the night.
3 in 1 Super WDR Pro – 140dB
Milesight upgraded 3 in 1 Super WDR Pro outputs three frames each line, which is able to bring more details especially moving subjects. What's more, it greatly improves image quality for reducing smear and noisy points. The ratio that the brightest light signal values divided by the darkest light signal values is up to 140dB.
120fps
With the industry leading frame rate reaching 120fps, the LPR Vandal-proof Motorized Mini Bullet Network Camera can easily catch images with no latency despite of the high-speed movement.
0.002Lux Ultra Low-light
the LPR Vandal-proof Motorized Mini Bullet Network Camera is able to deliver high detailed color images even in the low light environments reaching 0.002Lux (Color) or 0Lux (B/W), and near infrared light environments without any supplementary lighting.
---
13 January 2020
· Category:
Blog