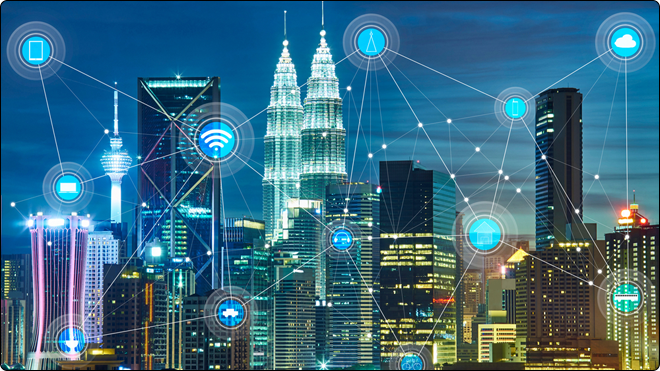 The 19th was the century of empires, the 20th was the century of nations and the 20th is that of cities… as well as in the future. Scholars and scientists of different fields agree on this sentence: urbanists, architects, sociologist, political scientists and also computer scientists believe that, while cities are becoming the nerve centers of our connected world, information technology is producing the impulses to make these complex ecosystems work in the inside and communicate to the outside.
In 2040, according to the World Economic Forum, 65% of world population will live in cities, with the "mega cities" that will be home to most of the people that in their turn will be able to produce 60% of the global GDP.
How can such an articulated structure live without producing chaos, disorder or inequality? The transformation of cities in Smart Cities is the answer: the process is slow but continuous and is providing huge changes.
The natural and urban environments are one of the most interesting fields of application of new technologies based on sensors that are able to detect the level of pollution or water consumption, for example. Security and monitoring of streets and infrastructures, already able to guarantee a certain level of automatism, paved the way to automatic management of energy and other utilities to avoid spoiling precious resources in the city suppling systems.
Arteco already made a step forward focusing on security and providing for solutions that ease the work of monitoring and safeguarding the efficiency.
Arteco LPR combines license plate reading with video surveillance, increasing the level of security and control of each installation while maintaining ease of use, sensible costs, and optimization of resources.
EasyTraffic acquires images from LPR-enabled cameras and combines them with high-resolution images from IP cameras to deliver details of the license plate and a wider, detailed view of the environment.
Everywhere 2.0 is the latest version of the Smart IP controller from Arteco. This IP-based I/O device allows complete control of 3rd-party hardware such as automatic doors, gates, lights, loud-speakers as well as the ability to combine security, building, and home automation systems into a single simple solution.
Arteco Videowall enhances situational awareness, optimizing every decision-making process and allowing users to better structure their business by streamlining costs and activities.
---
5 June 2019
· Category:
Blog