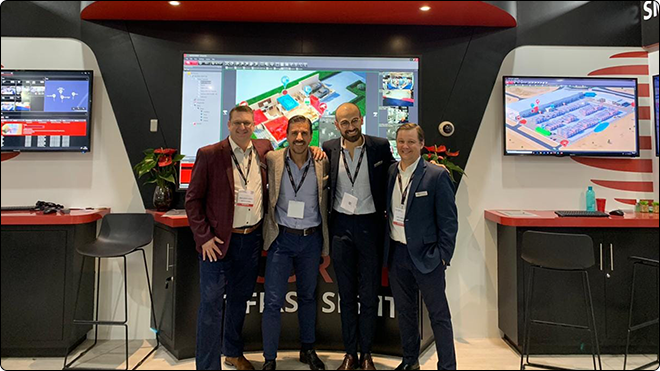 With the ever-increasing costs related to placing a physical security guard on site and the risk that it places on his/her life, off site video monitoring is becoming increasing popular. Admittedly the human being will never be completely removed, however intelligent remote video monitoring is no doubt the way of the future. Arteco fits perfectly in this market offering high end solutions at affordable pricing structures.
Furthermore, South Africa represents the gateway to the Sub-Saharan region, where some countries are now living a fast paced and promising growth. Data are showing the importance of investing in this amazing country and confirm how crucial a show like Securex is for the whole industry.
In our booth we showcased our view of the security industry: Arteco software solutions, indeed, are meant to be customer centred and offer an engaging experience of control over the monitored area. For us, it means designing and developing software that, through a single interface, provides a complete view on the system, integrating security devices and third parties' software, so as to go far beyond security.
Arteco Next and, in the future Arteco Omnia, are the results of Arteco's approach to the users: thanks to its intuitive use, the friendly design and the simple drag-and-drop function, every security professional can create his/her personal interface, select the view and have real time access to events.
How is it possible? Integration is the way Arteco can open its software to the many players of the industry that choose to become our partners. Intrusion and fire detection, perimeter detection and access control, electric fencing & lighting, temperature sensors and thermal cameras, these are just some of the many integrated systems Arteco can offer to create a real custom-made solution.
Finally, Securex was a great occasion to show the importance of being a company of people, able to guarantee assistance and support to clients and prospects, significantly focused on service and effectively on delivering best quality solutions.
---