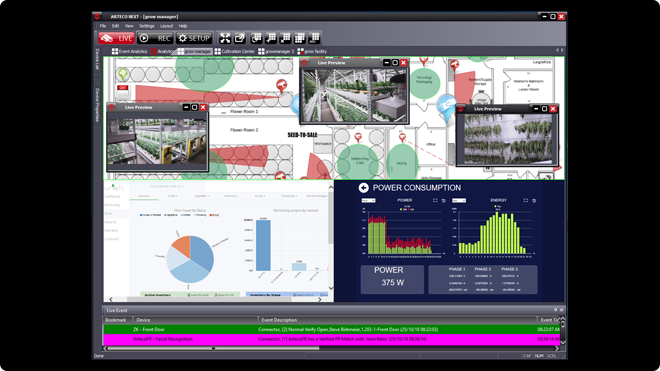 The current and projected explosive growth of the cannabis market has created a wide variety of opportunities for success for the facilities in this industry. But for grows and dispensaries to keep up with the market expansion and demands, they must face two prominent challenges: achieving effective security and efficient business operations.
This can be done by combining Arteco Video Event Management Software (VEMS) with a seed-to-sale platform to create a comprehensive grow house management solution. Arteco VEMS allows cannabis facilities to establish video compliance and identify the most relevant information at any given time, which can incorporate the track and trace component for a time-stamped video of a plant at every step.
When integrated with Arteco VEMS through Arteco's Open Connector, seed-to-sale software can send events when a plant is scanned in the system, creating four key crosspoints for video verification:
Distribution: Lab sampling
Cultivation: Managing crop growth
Manufacturing: Weighing product
POS: Print receipt/open cash drawer
Each of these data points is then searchable in Arteco VEMS by certain criteria (plant tag ID, order number, strain, etc.) and therefore easily retrievable for inquiries, additional information or investigative purposes. This provides operators with the ability to locate a particular fact or data point at a moment's notice, rather than sifting through overwhelming and irrelevant pieces of information.
Additionally, exceptions from environmental sensors for factors such as humidity, carbon dioxide levels, water flow and more can be tied into the platform as well. This collection of data can arm security teams and business operations managers with the kind of intelligence they need to make informed decisions in a timely manner.
Users can also view a facility map within Arteco's software that details all security, tracking and environmental controls. Combining these various aspects into one common platform enables cannabis facilities to efficiently monitor activity in a streamlined manner and quickly pinpoint any areas of interest or concern through real-time alert notifications to connected devices.
The ability of Arteco VEMS to easily integrate with any seed-to-sale platform transforms video security from a cost center to an operational tool that gives cannabis facility managers more oversight and control. Learn more about this integration capability here.
---
16 January 2019
· Category:
Blog