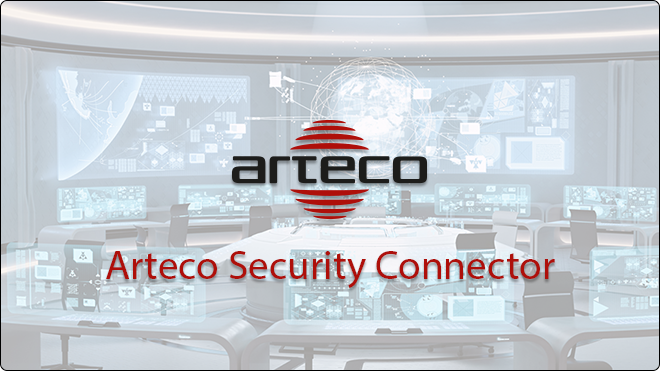 We've always believed that technology partnerships and integrations ensure our customers are offered a wide range of innovative security solutions, and to facilitate these collaborations, we've highlighted the importance of openness and interoperability. Arteco Security Connector (ASC), a new solution that streamlines the management of third-party IP devices, helps achieve this goal with ease.
Available as an add-on to Arteco NEXT Video Event Management Software (VEMS) and acting as an information bridge, ASC offers five key benefits to users:
Enables integration of a wide range of devices. ASC allows events generated by a variety of systems from leading vendors, such as intrusion alarm panels, fire direction and more, to be controlled through one centralized interface.
Ease of use. ASC is capable of converting events into standard protocols compliant with Arteco Open Connector and NEXT, and pre-installed drivers create an intuitive configuration process and cost-effective manner of combining video and security devices.
Improved functionality. Not only does the light, yet powerful, software application provide the ability to receive and manage events, but it also permits bidirectional interaction as it allows for the arming or disarming of groups of sensors with just one click and creates the ability to link devices with any other system configured on the Arteco VEMS, such as video cameras and access control systems.
Scalability. ASC works with Arteco NEXT eMotion, Active and Extreme, and is suitable for installation of all sizes, with its ability to manage a few or thousands of points.
Enhanced security and business operations. Arteco Maps offers a visual and interactive user experience, presenting operators with unprecedented situational awareness. Decision-making is enhanced through the capacity to visually verify the identity of individuals and obtain a complete overview of a scene. Additionally, post-incident investigations are made more effective by the availability of video information linked to each event.
To face today's varying security risks, organizations demand a combination of security technologies, and this unification must be seamless. Arteco Security Connector simplifies processes and improves integrations, granting elevated data collection and overall greater security for people and enterprises.
---