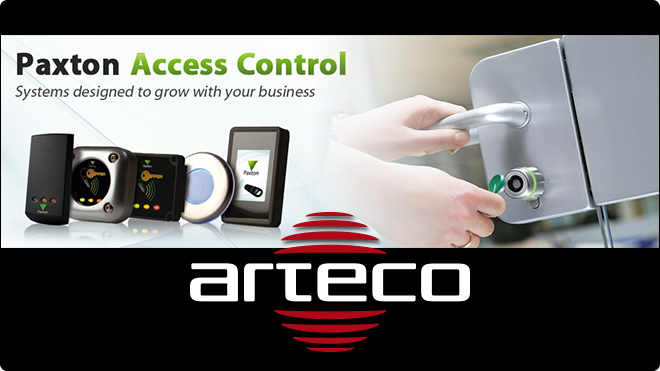 St. Louis, Mo., June 13, 2018 – Arteco, a global provider of video event management solutions, has completed its integration with Paxton's networked access control system, Net2. The combination of these two leading solutions enables users to gain additional levels of intelligence from their security infrastructure.
By integrating the Arteco Video Event Management Systems (VEMS) with Paxton's access control platform through Arteco Open Connector, users can combine video and access control events to gain new insights into potential risks or incidents. Paxton's Net2 range devices are manageable within Arteco NEXT VEMS, enabling enables operators to control Paxton's access control systems in combination with video surveillance cameras, intrusion systems, video analytics and other integrated devices, from one centralized interface.
With over 30 years' experience, Paxton creates simple, yet intelligent and innovative products with simplicity designed in, ensuring they are straightforward to install, use and maintain. The security system offers centralized administration and control of sites ranging from one to hundreds of doors, and thousands of users.
"The ability to mirror events within the Arteco platform allows joint customers to streamline operations, reduce training costs and ensure productivity," said Gareth O'Hara, Paxton's Chief Sales Officer. "At Paxton, we put our core values of simplicity and quality at the heart of everything we do, to answer the needs of the security market. Arteco is an ideal partner because of its open-platform video technologies and its focus on ensuring customers have access to advanced intelligence via an integrated security platform."
Access control events, such as a door forced open, can be configured to generate an alarm with the Arteco VEMS, allowing operators to focus on the most critical and important information at any given time.
"The integration of access control and video surveillance is of critical importance to a wide range of organizations and therefore, we are focused on developing close partnerships with today's most innovative access control providers," said Giampaolo Sabbatani, CEO, Arteco. "Our integration with Paxton allows us to provide customers with the ability to combine multiple data points into a single management platform to increase safety, security and intelligence."
About Arteco
Founded in 1987, Arteco is a global provider of event-driven intelligence solutions based in Faenza, Italy, with U.S. operations in St. Louis, Mo. With a focus on ease of use and event management, Arteco's research and development initiatives have united world-class, state-of-the-art video analytics and video management onto a single-platform to optimize processes and reduce costs. Arteco provides a wide range of software and network hardware solutions that integrate with third-party systems such as video surveillance, video management and access control. Arteco products are available through certified integrator partners around the world. For more information about Arteco's Video Event Management Software (VEMS) solutions, please visit https://www.arteco-global.com and follow on social media channels: LinkedIn, YouTube, Twitter and Facebook.
About Paxton Access Ltd
At Paxton, we design and manufacture market leading IP access control, door entry and building intelligence systems for smart buildings. Based in Brighton, we also manufacture all our products locally in Eastbourne. With over 30 years of experience, we develop systems for the mid-market (such as education, healthcare, retail, leisure, commercial and public sector) and provide solutions suitable for a wide range of sites and requirements. At present, around 25,000 buildings are secured by Paxton globally each year. Our team is constantly expanding internationally, and we currently have over 300 employees located at locations across the globe with offices in the UK, US, France, Germany, South Africa, Scandinavia, the Middle East and Benelux. Paxton projects include Manchester United, graze, Michelin, Cherbourg Airport, Boucheries Nivernaises, Sky Deutschland and Foyles. www.paxton.co.uk

Media Contact
Melanie Morris
440-360-0365
melanie@compassintegrated.com
---