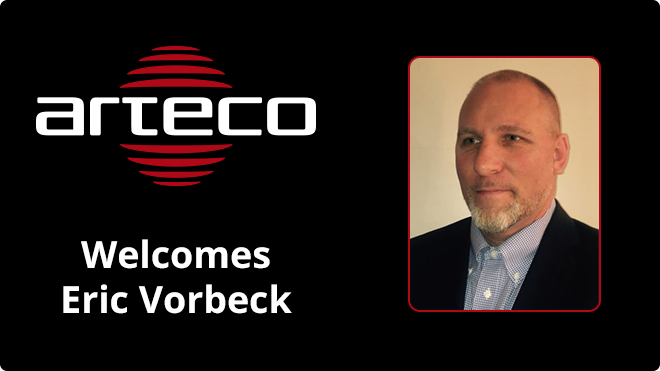 St. Louis, Mo., June 11, 2018 – Arteco, a global provider of intelligent video management solutions, announced today the appointment of Eric Vorbeck to the position of Western Regional Sales Manager for the United States.
In his role at Arteco, Vorbeck will call on his more than 13 years of experience in security, technology and sales to focus on developing new avenues of business as well as adding valuable support in servicing the company's expanding customer base in the Western United States. Prior to joining Arteco, he was Western Region Sales Director for 3VR. Previously, he held the role of Vice President of Sales and Operations at CV Reps. Over the course of his career, he also worked with Mace Security International and Northern Video Systems.
"Arteco's focus on helping users pinpoint events and alerts quickly, and its open integration capabilities make the company stand out in today's crowded marketplace as a leader in the development of intelligent video surveillance solutions," said Vorbeck. "I am pleased to have the opportunity to propel new opportunities in this high-growth region and contribute to the company's continued growth."
"Eric has been a strong supporter of Arteco's business and technology development over the course of his career, and has been instrumental in enhancing lead generation and sales efforts in the West," said Steve Birkmeier, Vice President of Sales and Business Development, Arteco. "As a company, we've built and sustained significant success in the Americas over the past year, and look forward to adding Eric's expertise to continue our push in the Western region."
The company's sales growth has continued to accelerate as organizations across the globe realize significant benefits from the company's focus on intelligence, which enables users to gain new levels of awareness and approach security efforts in a more proactive manner. Customers, including Huntington Independent School District, have experienced streamlined integration, shortened response times, and robust investigations processes through the incorporation of the Arteco's solutions into their security and business operations.
About Arteco
Founded in 1987, Arteco is a global provider of event-driven intelligence solutions based in Faenza, Italy, with U.S. operations in St. Louis, Mo. With a focus on ease of use and event management, Arteco's research and development initiatives have united world-class, state-of-the-art video analytics and video management onto a single-platform to optimize processes and reduce costs. Arteco provides a wide range of software and network hardware solutions that integrate with third-party systems such as video surveillance, video management and access control. Arteco products are available through certified integrator partners around the world. For more information about Arteco's Video Event Management Software (VEMS) solutions, please visit https://www.arteco-global.com and follow on social media channels: LinkedIn, YouTube, Twitter and Facebook.
Media Contact
Melanie Morris
440-360-0365
melanie@compassintegrated.com
---