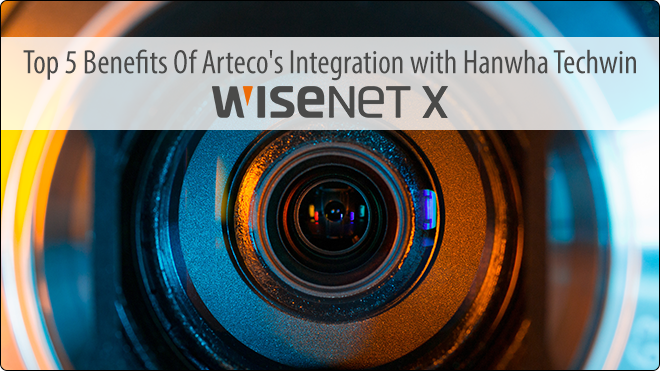 The integration between video event management software and video surveillance security cameras is a critical element when it comes to maintaining the overall safety and security of a facility. Arteco and Hanwha Techwin have strived to make this collaboration as seamless and valuable as possible over the years, and now, Arteco's Video Event Management and Video Intelligence Solutions are compatible with the new Hanwha Techwin Wisenet 5 chipset.
This integration enhances performance for customers through five key benefits:
The ability to combine ease-of-use, reliability, comprehensive integration and an intuitive platform into a single package meets the increasing demand for interoperability in the security industry today.
Arteco's intelligent solutions, including license plate recognition and other edge-based retail and security analytics, deliver advanced capabilities to Hanwha customers. Through the combination of these leading technologies, organizations can gain new levels of insight through the automation of video monitoring processes to strengthen security, enhance loss and fraud reduction, optimize operations and boost awareness.
The powerful Wisenet 5 technology, which drives the Wisenet series X camera line, includes advanced features, enables faster processing and delivers extreme performance to a wide range of video surveillance applications. The Wisenet 5 chipset is set apart from previous generations by its Wide Dynamic Range (WDR) decibel level and data compression capabilities. Most cameras today only offer a maximum of 120dB, but Hanwha's new 2-megapixel camera models will offer a 150dB.
Arteco's support of Hanwha's most advanced chipset will allow both companies to continue to deliver the most modern surveillance technologies to the market.
The collaborative partnership Arteco has had with Hanwha is a result of robust research and innovation, and this integration strengthens their joint commitment to delivering affordable, advanced analytic functionality to their global customer base.
Schedule a meeting now to see Arteco and Hanwha's integration and security solutions at the 2017 ASIS International Seminar and Exhibits Sept. 25-28, at the Kay Bailey Hutchinson Convention Center in Dallas at Booth #3235.
---