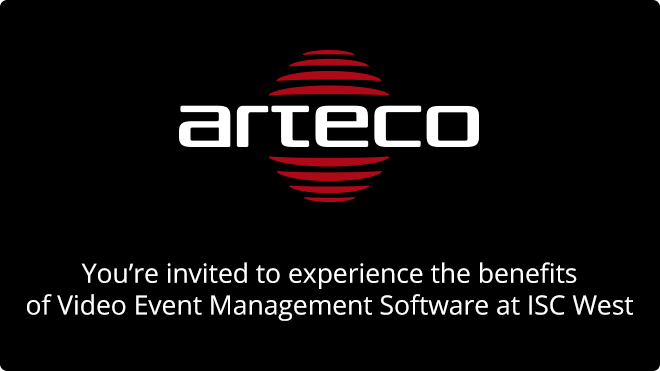 See the Difference at booth #4097

At this year's ISC West, learn how VEMS helps organizations quickly identify important data from non-critical information to streamline response and gain new levels of awareness. Contact us to schedule an on-site demonstration with the Arteco team.
Additionally, we are excited to announce that we will unveil advancements to our video event management portfolio at the upcoming ISC West conference. The Arteco video surveillance solutions portfolio has always delivered a wide variety of functionalities that help stakeholders gain new levels of awareness within their security and business infrastructures. Now we're expanding our focus to provide solutions that fit the requirements of specific vertical applications, such as retail, logistics, critical infrastructure and commercial. Additional upgrades include advanced storage options, bandwidth reduction for live and recorded video, support for ONVIF Audio Out, and more.
You're Invited to our Opening Day Networking Reception
Join Arteco, CyberExtruder and SANS Technology for the ISC West Opening Day Networking Reception. Come meet fellow industry professionals and engage with our teams. Space is limited, register today.
Arteco Partner Pavilion at ISC West
At this year's ISC West, Arteco has joined forces with two of its technology partners to demonstrate the powerful capabilities of its combined solutions. CyberExtruder and SANS Technology will have dedicated demonstrations at Arteco booth #4097.
CyberExtruder
CyberExtruder was conceived to achieve one simple goal – to quickly and accurately model a complete human head by using nothing more than a single facial photograph.CyberExtruder intends to be the world's leading provider of cutting edge facial recognition technology used to protect the security of individuals, businesses and governmental institutions. CyberExtruder's Aureus 3D is the first, and only, 3D face recognition technology which works using only the images and video captured from conventional 2D cameras.
SANS Technology
SANS Technology is dedicated to challenging the enterprise storage status quo by delivering transformative solutions to recalibrate the user perception of data storage. Founded in 2013, SANS Technology delivers innovative, cutting-edge data storage solutions that help enterprises simplify and manage their Data Storage Supply Chain. SANS Technology is unique among data storage companies by providing solutions to address data protection for the entire Data Storage Supply Chain. From creation to archiving, we cover it all.
Live Demonstrations of Video Event Management Software and Open Connector
Arteco VEMS helps organizations gain the most relevant video and security information at any given time. The focus is on identifying critical events and areas of interest, rather than sifting through hours of non-critical video footage. Arteco's Web-based VEMS combines alarms and notifications from third-party devices such as video surveillance, access control, license plate recognition (LPR), fire detection, gunshot detection, video analytics, building automation and more onto a single, intuitive platform.
Arteco VEMS is built on an open platform, making integration across third-party systems or devices easier than ever. The interoperability of Arteco's solutions with devices that follow global security standards and protocols makes event-driven intelligence and deeper awareness more accessible to various environments. The award-winning Arteco Open Connector provides deeper integration options, allowing enterprises to build a best-in-class security solution, regardless of manufacturer.
---