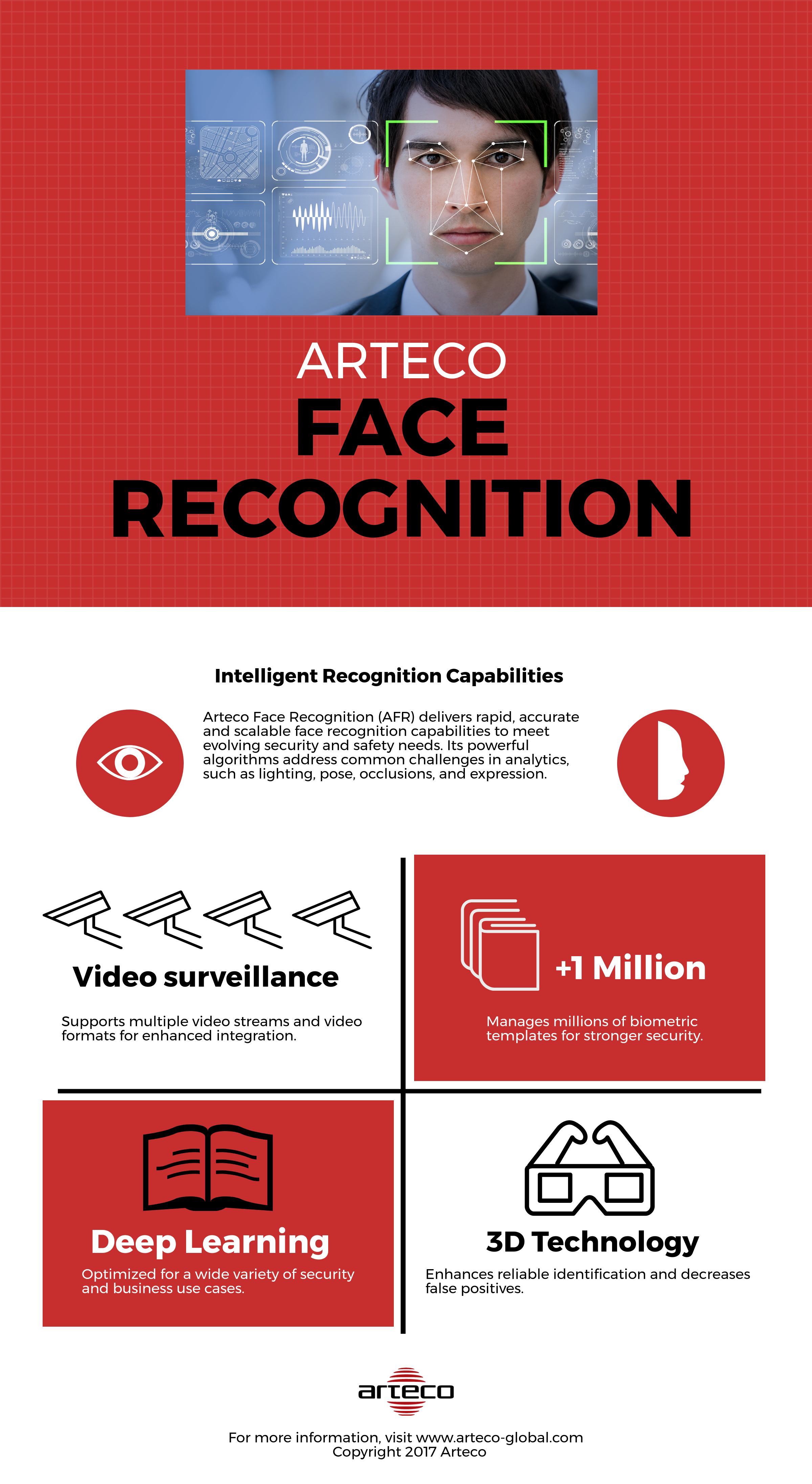 Video surveillance cameras and video event management software are incredibly useful when it comes to monitoring environments and responding to security incidents. But the action taken can only be as good as the quality of the data received. Security officials require dependable and clear images from monitors and video streams, enabling them to react quickly and appropriately in any given situation.
In order to meet these evolving safety and security needs, Arteco has added intelligent face recognition capabilities to its suite of video event management solutions. Organizations can use the speed, reliability and accuracy of Arteco Face Recognition (AFR) to enhance data capture and awareness. AFR is capable of using images and video evidence of varying quality and standards to provide real-time and forensic surveillance solutions.
AFR is made powerful through deep learning and 3D technology, creating the ability to manage millions of templates and making it scalable to fit a wide range of analytic requirements. Its powerful algorithms also address many frequent challenges users face in analytics, such as subject pose, expression, environmental lighting and partial facial occlusions.
Fully integrated into the Arteco NEXT video event management solution, AFR evaluates video from multiple streams and supports today's most prevalent video formats, allowing its use in several vertical markets. In the retail industry, AFR can be used for more than just identifying known shoplifters and preemptive organized crime events; it can also be used for point-of-sale and exception monitoring, marketing strategy analysis and flow analysis. On a school campus, AFR can provide traffic flow analysis and the demographic makeup of students and staff, and indicate loitering.
In critical infrastructure, AFR use cases include proactive crime monitoring, identifying undocumented individuals and intrusion detection. Logistics and supply chain organizations can use AFR to identify crime events and suspected criminals, and smart city applications include terrorist watch list making and crowd monitoring.
It's clear that AFR's benefits can span across a wide variety of locations, and with its ability to scale easily and economically with low system and storage requirements, users can easily receive comprehensive business or security data. AFR is also simple to manage and administer, facilitating our software to continue helping organizations seamlessly gain the most relevant data from their video security and business systems.
---
24 October 2017
· Category:
Blog