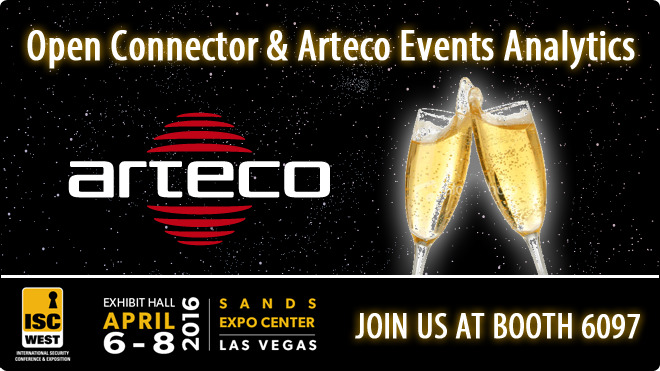 In just a few days, we will be joining the other 28,999 industry professionals at the leading physical security event in the United States — ISC West in Las Vegas. In this city of glitz and glamour, we will add to the ambiance by celebrating the commercial launch of Open Connector, a streamlined, interoperable platform that consolidates third-party notifications and events from various devices and systems, as well as introduce Arteco Events Analytics (AEA), a powerful, flexible solution that helps make better sense of real-time data generated by security installations.
Simply put, Open Connector can link as many devices and web pages as needed, creating a truly scalable system. Open Connector's performance capabilities offer a number of advantages:
Customization – Users have the ability to program and customize their own user experience based on specific applications and the type of environment in which the platform is deployed.
Configuration – Integration with third-party technologies delivers efficiency and the possibility for intuitive configurations.
Connection – Open platform eliminates the need for end-to-end proprietary solutions that are expensive to manage, integrate and deploy.
We invite you to visit our booth, #6097, at the Sands Expo Center show floor to experience Open Connector with the Arteco team. We are available for a full platform demo and to answer any questions. While you're there, be sure to ask us about Arteco Events Analytics (AEA), our most recently released solution that improves, simplifies and enhances the management of events generated by every Arteco system. This platform improves business intelligence by reporting on alarm events while managing processes and operator duties, and produces intuitive, easy-to-understand graphs from the data being generated. During the AEA demo, be sure to see the four main areas of the platform: dashboard, system diagnostics, device reports and operation ranking.
And, in the spirit of celebration, we will be hosting Happy Hour from 3 to 4:30 p.m. on Wednesday, April 6, at the Arteco booth. Whether you identify as a customer, partner, colleague or friend, please stop by, enjoy a glass and say hello. We invite you to register for free here.
We are excited to "connect" with you this year at ISC West and look forward to your participation in our event-driven trifecta — Open Connector, Arteco Events Analytics and a happy hour!
---