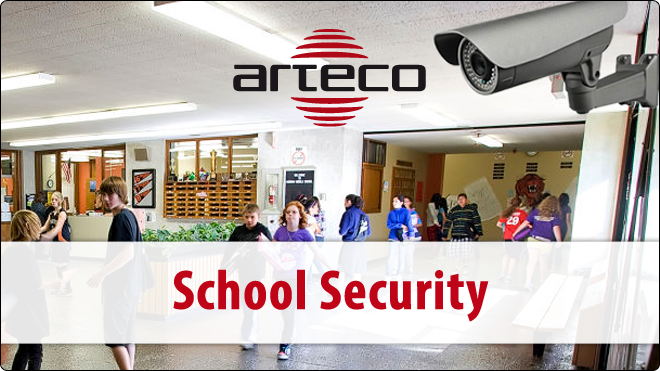 Today's world can be a scary place.  The news is saturated with stories of violence and threats.  When we consider sending our children to school, and eventually to college, a real fear for safety and security emerges.  Schools can no longer afford a passive approach when addressing these risks.  In response to the growing need of proactive solutions, Arteco delivers options for campus security on a higher level.
The trend towards newer facilities and larger, expanding campuses leads to the necessity for more advanced security solutions to ensure protection for students, faculty and staff members.  Most campuses have a security system in place, but the question arises: will it be enough when an incident occurs?
Having to completely replace an existing system – or even integrate with end-to-end systems – can be a daunting task for a facility.  Budget issues, equipment replacement and training obligations are a few obstacles that may deter an upgrade implementation.  Arteco has dedicated their system offerings to meeting these needs head-on with actionable solutions that make sense for the organization as a whole.
When it comes to existing security equipment and campus infrastructure, the integration capabilities of Arteco's systems make it a seamless and easy transition.  The beauty of third-party integration through Open Connector is that it not only merges with the current technology, it also scales to advance with future surveillance camera, access control or identity management platform additions as well as the population or land endowment growth of schools nationwide.
Change is not always easy.  Luckily, facilities do not have to worry about wasting time and resources on extensive training for Arteco systems.  Operator intuitiveness, ease of use, and exceptional technical support are features of Open Connector that guide a smooth and proficient transition.  In fact, facilities are finding that little to no extra training is required for campus security when considering video event management solutions.
To combat the increased risk to security that education facilities now face, Arteco has developed a system with built in analytical features that enables quick access to evidence retrieval in the case of an incident occurring.  This extra time and increased resources can be critical when building upon situational awareness and ensuring a safe environment.
By introducing an adaptable system and migrating to a more reliable IP surveillance structure, campuses are experiencing more efficient security management in real time and a reduction in overall costs.  This integration is revealing an increase in short and long term ROI.
It is unfortunate that we live in a time that schools have to heighten their security protocols.  The essential goal is to maintain an open campus environment while still prioritizing security.  Arteco recognizes the hurdles that organizations face and offers real solutions that campus security, staff, and students can utilize to enjoy a safe space.
---
4 August 2016
· Category:
Blog