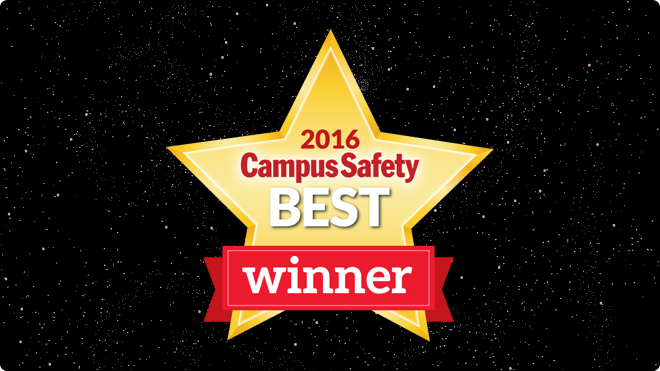 St. Louis, Mo., August 4, 2016 – Arteco, a global provider of event-driven intelligent video management solutions, is the recipient of a 2016 Campus Safety BEST award for Open Connector in the Video Surveillance Software category. The award program, presented by Campus Safety Magazine, recognizes the most noteworthy new products and services that can impact campus safety and security.
Open Connector is an interoperable platform that consolidates third-party notifications and events from various devices and systems, such as surveillance cameras, access control, alarm, building automation and traffic control systems, into one easy-to-use, intuitive management platform. Introduced at the 2016 ISC West Conference, Open Connector delivers a broad range of customization and integration capabilities through its simplified, modern user interface, enabling schools and campuses to empower efficient tactical responses to incidents according to mission-critical information.
A panel of industry leaders and the editorial staff of Campus Safety selected this year's award honorees based on a technology's ability to contribute to high levels of safety and security in campus environments.
"The evolving security requirements of higher education and K-12 facilities require solutions that allow users to gain insight that enables quick response and more informed decision-making," said Steve Birkmeier, Vice President of Sales and Business Development, Arteco. "Open Connector is designed to help stakeholders gain the most information out of their technology investments to ensure high levels of safety and a more proactive approach to security."
Arteco will demonstrate the capabilities of its event-driven video intelligence solutions at the upcoming Campus Safety West Conference, which will be held August 9-11, 2016 in Long Beach, Calif.
Related Resources
About Arteco
Founded in 1987, Arteco is a global provider of event-driven intelligence solutions based in Faenza, Italy, with U.S. operations in St. Louis, Mo. With a focus on ease of use and event management, Arteco's research and development initiatives have united world-class, state-of-the-art video analytics and video management onto a single platform to optimize processes and reduce costs. Arteco provides a wide range of software and network hardware solutions that integrate with third-party systems such as video surveillance, video management and access control. Arteco products are available through certified integrator partners around the world. For more information about Arteco's Video Event Management Software (VEMS) solutions, please visit https://www.arteco-global.com and follow on social media channels: LinkedIn, YouTube, Twitter and Facebook.
Media Contact
Delphine Thierry
O: 832.594.1043
E: delphine@compassintegrated.com
---