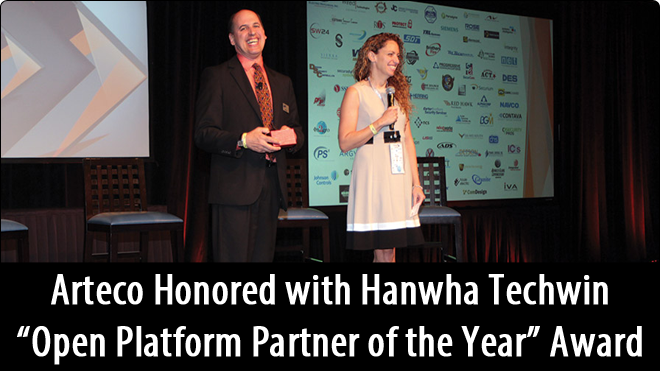 St. Louis, Mo., May 9, 2016 – Arteco, a global provider of event-driven intelligent video management solutions, has received the "Open Platform Partner of the Year" award from Hanwha Techwin (formerly Samsung Techwin) at the STEP Partner Summit in Puerto Rico. The award recognizes Arteco's industry-leading open platform video event management software integration with Hanwha Techwin video surveillance technology.
The long-standing technological partnership between Arteco and Hanwha Techwin is a result of robust research and innovation. By combining ease-of-use, reliability, comprehensive integration and an intuitive platform into a single package, Hanwha and Arteco continue to meet the increasing demand for interoperability in the security industry today.
"Arteco's comprehensive video event management software, including the license plate recognition (LPR) application, allows Hanwha Techwin customers to reach new levels of clarity in video security by breaking down the high cost barriers to quality video analytics capabilities," said Tom Cook, Vice President of Sales, North America, Hanwha Techwin. "This partnership continues to push the boundaries of what's possible in business intelligence, and we're excited to pursue revolutionary security ventures going into the future."
The event showcased the capabilities of the onboard Arteco LPR App, available exclusively on Samsung Wisenet III cameras. The powerful processor mounted on the Samsung cameras and Arteco's versatile optical character recognition (OCR) algorithm combines LPR with high-resolution video surveillance, increasing the level of security and control of each installation while maintaining ease-of-use and optimizing resources. It is ideal for a wide range of applications including access control, parking management, border control, gate automation, residential area monitoring and more. Additionally, Arteco's integration with Samsung NVRs allows users to view the client NVR WebViewer video streams from cameras to read license plates, receive and view events in real time, search previously logged plates and review recordings.
"Arteco's open platform integration with the Samsung product family has elevated the security profile to bring joint customers unprecedented situational awareness for a multitude of applications," said Steve Birkmeier, Vice President of Sales and Business Development, Arteco. "We are honored that Hanwha Techwin chose to recognize Arteco as Open Platform Partner of the Year, and look forward to the technological doors that this recognition opens for further integration, interoperability standards and end-user satisfaction around the globe."
About Hanwha Techwin America
Hanwha Techwin America, the U.S. subsidiary of Hanwha Techwin, is a leading supplier of advanced video surveillance solutions for IP-video, analog and hybrid systems. Building on the company's history of innovation, Hanwha Techwin America is dedicated to providing solutions with the highest levels of performance, reliability and cost-efficiency for professional security applications, such as continuing development in advanced edge devices and video analytics. For more information, visit HanwhaTechwinAmerica.com.
---