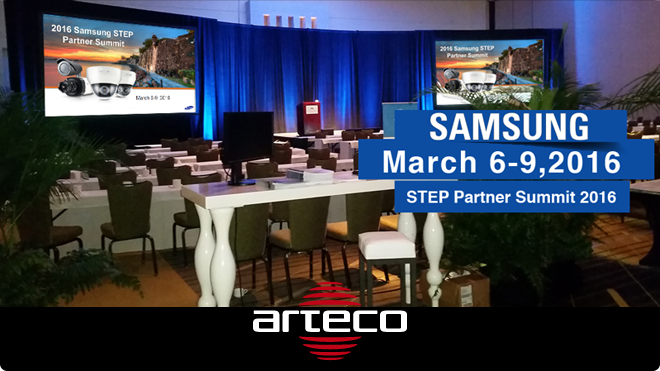 ARTECO is proud to announce it will be joining Samsung's STEP Partner Summit 2016 in Puerto Rico, from March 6 to 9, at the Waldorf Astoria, El Conquistador Resort, in Fajardo.
The event will be an opportunity to showcase the infinite possibilities of the the onboard LPR App available exclusively on Samsung's Wisenet III cameras.
The combination of the powerful processor mounted on the top range Samsung cameras and Arteco's versatile OCR algorithm results in a product suitable for different applications:
Access control
Parking management
Border control
Automation of toll road gates
Monitoring of residential areas
The integration with Samsung NVRs will allow users to view the client NVR WebViewer video streams from cameras to read license plates, receive and view events in real-time, search previously logged plates and view recordings.
This breakthrough is a result of research and innovation between Arteco and Samsung Techwin.
The security industry is increasingly looking for products that are simple to use, reliable, comprehensive and integrated, but also affordable. By combining all of these traits into a single package, Samsung and Arteco stand ready to meet this demand.
Find out about new and future products and stay ahead of the competition – come visit us!
ARTECO: SEEtheDIFFERENCE
We can't wait to see you at the show, click here to register: www.steppartnersummit.com
---
25 February 2016
· Category:
Events