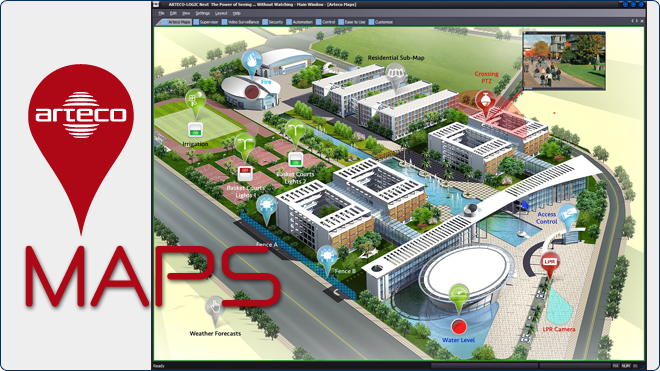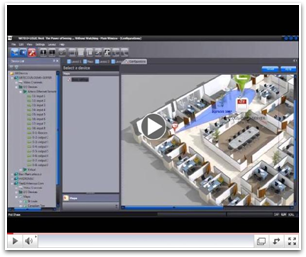 ARTECO Maps changes the way users approach their security environment by delivering complete situational awareness for video security, fire, access control, perimeter detection and automation on one common interface.
The ease of use and configuration of ARTECO Maps transforms the ARTECO-LOGIC Next client into the ultimate Event Management Software (EMS), driving the control of the environment on one single platform. Gain control of the security environment with easy to understand representations of all used devices and actionable intelligence available at any time.
ARTECO Maps allows you to arrange and locate all devices on the map: cameras, microwave barriers, smart fencing, access control devices and automation systems. Users have the ability to assign icons specific to each object on the map to insure a visually clear installation in an instant.

The graphical tool allows users to easily customize the presentation of each device to help communicate its purpose with unique colors, text, and graphics. This definition gives users immediate visual awareness of the environment by graphically high-lighting everything that is happening in their security world.
With a single click, Arteco Maps activates live view previews of the cameras and real-time events from devices in the field. Users can view live cameras, activate recorded video, control I/O devices and much more from the same screen in a matter of moments.
Multi-level mapping allows users with proper credentials to easily move from Map to Sub-maps; to zero-in on specific information. Go from city view, to external building view, to internal building layouts across multiple floors in a matter of clicks. Direct links to predetermined information can be embedded in the maps to launch a program or web-browser if more information is needed.
ARTECO Maps, the new innovative feature set included in the ARTECO-SERVER Enterprise version and now available in the ARTECO-SERVER Professional version (upgrade required).
This video introduces the new MAPS feature in ARTECO-LOGIC NEXT. 
---