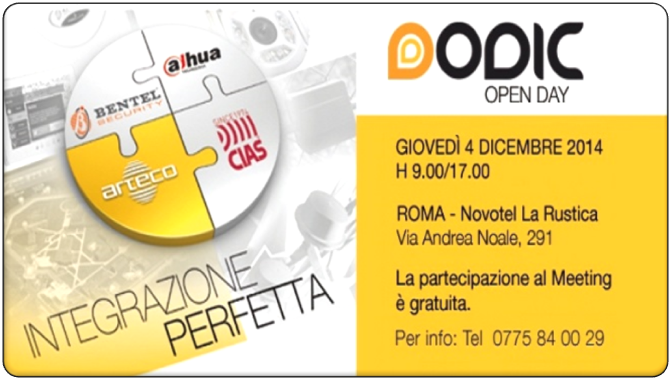 ARTECO invites you to an Open Day event organized by DODIC on the 4th of December to be held at the Novotel Hotel – La Rustica. The event will focus on the integration of security solutions and video surveillance systems and will provide a range of topics to discuss along with practical demonstrations and the interaction of solutions provided by ARTECO and other DODIC partners including CIAS, DAHUA TECHNOLOGY, and BENTEL SECURITY.
Thanks to ARTECO's VEMS client Arteco Logic NEXT, all of the solutions provided by DODIC's partners integrate seamlessly and allow the end user full control his surroundings and total situational awareness. Indeed, real-time alarms are guaranteed for all installed security devices, whether they are video surveillance cameras provided by DAHUA TECHNOLOGY , perimeter protection devices provided by CIAS or intrusion detection solutions by BENTEL SECURITY.
Event sessions will commence as follows h 10,00 – h 12,00 – h 15,00 – h 16,30, and each will last about 40 minutes. The spacious exhibition hall at the hotel can be accessed for the whole day and participation at the event is free of charge once registration details are provided.
 WHO KNOWS, YOU MIGHT WIN SOMETHING IF YOU ATTEND!
---

Necessary

Statistics

Targeting