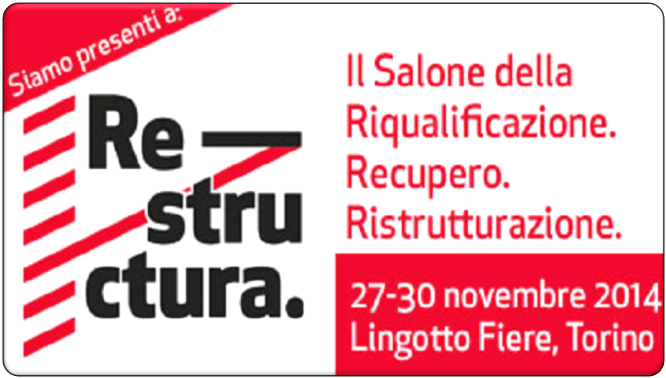 ARTECO and FENIVA at RESTRUCTURA in Turin
November 27-30 2014 – STAND Q29 of the OVAL Lingotto
via Nizza 280 Turin
DISCOVER 5 good reasons to visit FENIVA's stand at RESTRUCTURA:
ARTECO VERITY – The IP VIDEO DOOR STATION by ARTECO which lets you receive doorbell requests directly on your mobile phone and to use even up to 5 megapixel cameras for surveillance purposes.  The New Frontier of Total Control..Arteco VERITY!
 ARTECO LPR – The Arteco ALPR license plate recognition application has been developed for access control purposes and is supported by Arteco-Logic NEXT VEMS and is able to read license plates at a rate of over one every two seconds with vehicles moving at speeds of up to 50Km/h.
IPFACILE – the new and compact IP Camera which sends you alarms according to push, recording (audio/video) for total situational awareness, even in 3G!
SMART ACCESS – the new and revolutionary solution to manage your video surveillance and home/civil automation requirements directly on the TV!
Paradox Antintrusione – Alarm panels which can be managed remotely with GSM or APP.
PLUS we will be at your side with a range second and third level technicians at the stand to explain you all of the installation requirements.
TAKE ADVANTAGE ot the EASY and intuitive 3rd generation state-of-the art IP solutions provided by ARTECO and the other FENIVA partners combined with FENIVA's professional staff who is always available to respnd to the needs of installers and retailers of the video surveillance industry since 2004.
VISITORS
TO GET YOUR DISCOUNT COUPON TO VISIT OUR STAND ON NOVEMBER 29th-30th
INSTALLERS AND PROS with VAT NUMBER
TO FILL OUT THE FORM AND ENTER THE FAIR FOR FREE ON NOVEMBER 27-28
FOR FURTHER INFORMATION CONTACT: FENIVA
TEL. +39-011-852559
---

Necessary

Statistics

Targeting