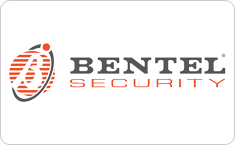 Bentel Security
www.bentelsecurity.com
BENTEL SECURITY has established itself as a security benchmark: a leader in product design and manufacturing of a complete range of intrusion security and fire alarm control equipment and accessories.
BENTEL's residential and small business intrusion control panels are based on the unique philosophy of the KYO UNIT. The KYO UNIT satisfies any installation requirement big, small, simple or complex.
Following this philosophy the KYO100 and KYO300 controls are ideal for larger commercial and industrial applications and offer additional functions required for these environments. Common to all KYO series control panels is the functionality of its advanced modular technology which allows for a simple installation that ensures the highest reliability and desired operation.
Programming and maintenance of BENTEL intrusion products is made even simpler with the use of BENTEL SECURITY SUITE software installed on any local or remote PC.
The aesthetics of BENTEL products are characterized as elegant and simple. It is the attention to detail throughout the entire product line of keypads, proximity readers, motion detectors and signalling devices, that sets BENTEL apart from our competitors.
On the leading edge of communication technologies, BENTEL enables control panel connectivity for high speed communication via wireless GSM/GPRS and secure Internet in addition to traditional telephone lines to reliable manage, remotely control and monitor the system.
BENTEL offers also a full range of conventional and analogue addressable (J400 series and FireClass FC100 and FC200) fire control panels equipped with high quality devices for fire alarm detection, alarm signalling and system management.
Bentel Security was founded in 1983 in Grottammare, Italy and moved to Corropoli in 1994. Global demand for its superior product line grew, and in 1998 Bentel joined forces with DSC to bring the world the finest security product line-up ever offered.
Bentel now offers the best value in a very complete line-up of security and fire detection products.
---
Integration notes:
Via Contact-ID Plug in
Integration through third-party partners
More