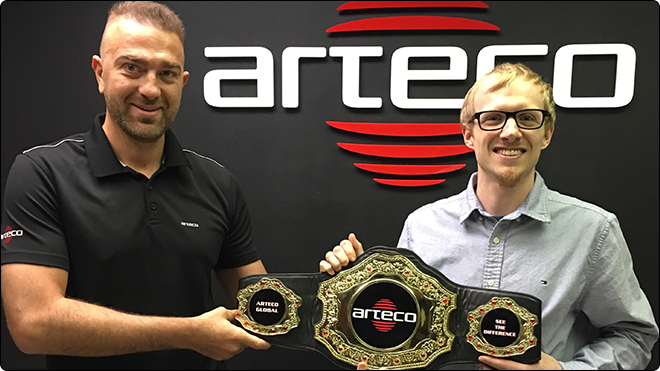 In the first blog of this series, we introduced you to Our-teco: the group behind the scenes contributing daily to the company's success. We highlighted Lorenzo Mongardi, Software Tester and Trainer Specialist for Italy, who played a key role in creating the structure of the newly designed Arteco Academy.
We'd now like you to meet Bryan Land, another member of the training program, who continuously applies the utmost passion and hard work to his position. Land, U.S. Technical Support Manager and training coordinator for the United States, started his career with Arteco in May 2016 with a strong desire to grow and evolve his skills, beginning in the IT and networking fields.
In his technical role, Land's day-to-day tasks include providing remote customer service and support, aiding with technology development and supporting the sales process. But he wanted to take his intricate knowledge of Arteco's products to the next level to help his customers better meet their goals, leading to his supplementary position managing training sessions for customers.
We've emphasized the value of training over the years, and Land understands that it goes beyond a monetary sum: "The return on investment you get from providing a strong training program for both employees and customers is more easily seen in what it delivers to long-term growth," he said. He believes the most important characteristics of a robust training program include leadership, collaboration, customer feedback, access to resources and real-world examples.
Land gets to know each customer personally and strives to understand their strengths and weaknesses to cater to specific needs in varying areas and impart the correct knowledge base to ensure success. He said the new Arteco Academy program provides an abundance of resources to attendees through on-demand online access and a comprehensive support network. "We have years of IP camera and networking experience, and we centralize our curriculum around solving various hardware or networking problems that may arise. Even if an issue is outside of Arteco's scope, we want to help the customer solve that problem — it's part of our drive to ensure their security and business goals are reached," he said.
Land brings an upbeat, positive and enthusiastic attitude to both the training sessions and his position at Arteco, displaying his personal commitment and dedication to creating success for the company and its customers. Thank you, Bryan, for what you've done as a member of Our-teco and we appreciate having you on our team!
---
22 August 2018
· Category:
Blog