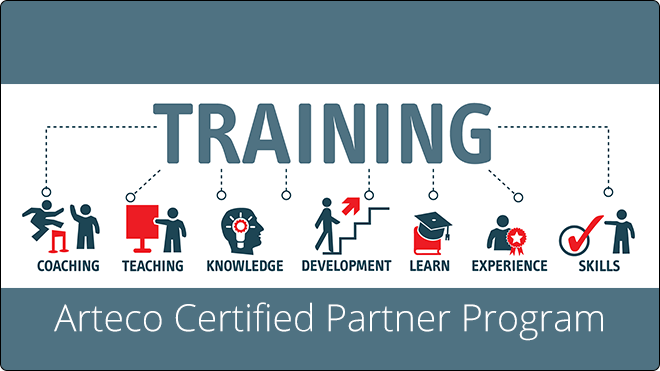 St. Louis, Mo., Jan. 24, 2018 – Arteco, a global provider of event-driven intelligent video management solutions, today unveiled rich enhancements to its Arteco Academy training offerings to ensure customer success with Arteco video event management solutions and services. The educational programs include classroom and online modules at a variety of levels to ensure flexibility and customization to enhance learning objectives.
Integration partners and customers gain access to base-level training that introduces the Arteco NEXT video event management software and its primary features and best practices. This Tech I online training series explains how to deploy and configure the Arteco NEXT solution including how to manage cameras, video recording, video downloads and more. At the end of the module, users will be directed to a 20-question exam to complete certification. All participants must receive at least an 80 percent to achieve certification and be eligible for Tech Training II.
Tech II is an all-day, classroom-based training program offered in a lunch-and-learn format. These events deliver a deeper dive into the installation and configuration process including administration rights, video analytics and troubleshooting methods. There will be an exam at the end of the class to complete the certification process.
"These immersive experiences demonstrate our continued investment in technology and education to ensure we continue exceeding customer expectations," said Giampaolo Sabbatani, CEO, Arteco. "Our team of highly skilled trainers and the programs they designed empower a seamless deployment process and long-term relationships with our key partners."
About Arteco
Founded in 1987, Arteco is a global provider of event-driven intelligence solutions based in Faenza, Italy, with U.S. operations in St. Louis, Mo. With a focus on ease of use and event management, Arteco's research and development initiatives have united world-class, state-of-the-art video analytics and video management onto a single-platform to optimize processes and reduce costs. Arteco provides a wide range of software and network hardware solutions that integrate with third-party systems such as video surveillance, video management and access control. Arteco products are available through certified integrator partners around the world. For more information about Arteco's Video Event Management Software (VEMS) solutions, please visit https://www.arteco-global.com and follow on social media channels: LinkedIn, YouTube, Twitter and Facebook.
Media Contact
Rhianna Daniels Hile
O: 603-591-7209
E: Rhianna@compassintegrated.com
---