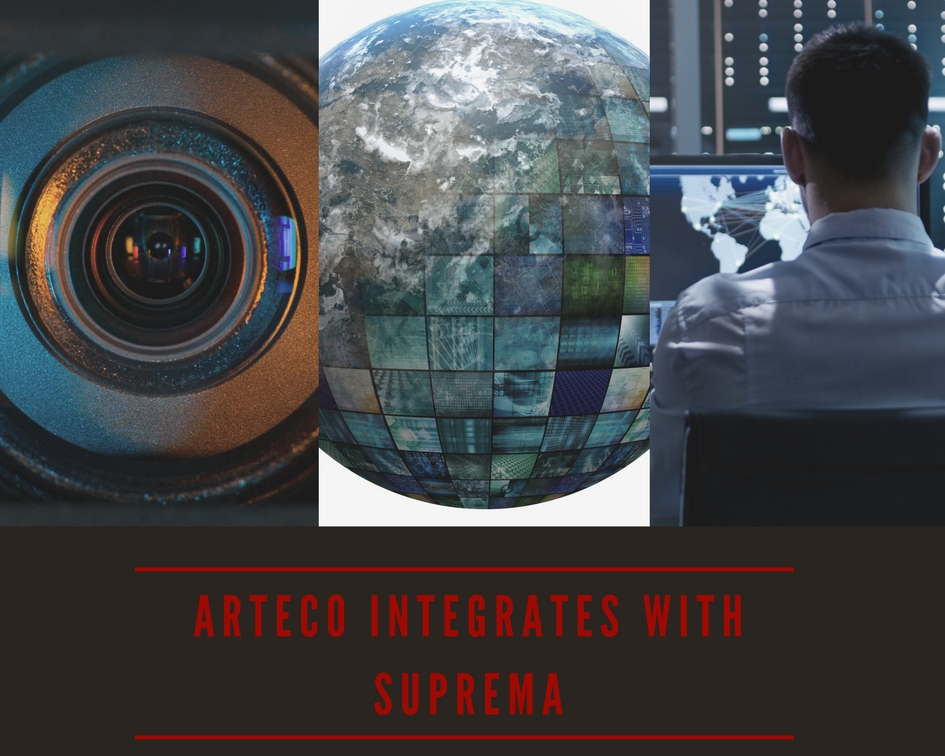 Technology partnership delivers new levels of event management to customers and partners across the globe

Seoul, December 13, 2017 – Arteco, a global leader in the delivery of video event management solutions, announces that Suprema access control is now integrated with Arteco Video Event Management Software (VEMS).
The integration between Suprema's BioStar 1 and 2 and Arteco adds real-time access control events into Arteco. BioStar solutions can now be managed from within the Arteco VEMS interface, streamlining usability and boosting event management. Through the Arteco mapping interface, operators can check door status and manage locks, demonstrating the benefits of managing multiple connectors through the Arteco UI.
The integration opens doors to new opportunities with customers in the logistics, healthcare, critical infrastructure, transportation and retail markets because it allows users to focus on critical events rather than non-useful data. Suprema solutions are optimized to meet a wide variety of access control needs and are built to ensure strong access protocols in various market applications.
"We see our technology partnership with Arteco as an opportunity for both companies to deliver robust security infrastructures that allow modern businesses to experience close integration of industry-leading applications," said Hanchul Kim, Sales Director at Suprema. "The integration of access control and video surveillance is paramount to ensuring a high level of security in today's evolving risk environment while gaining insight into overall operations."
"Arteco is committed to enhancing the opportunity for customers to gain more intelligence from linking video surveillance and access control systems into one platform," said Giampaolo Sabbatani, CEO, Arteco. "Our partnership with Suprema demonstrates our continued promise to help our customers realize new levels of situational awareness across the enterprise."
About Arteco
Founded in 1987, Arteco is a global provider of event-driven intelligence solutions based in Faenza, Italy, with U.S. operations in St. Louis, Mo. With a focus on ease of use and event management, Arteco's research and development initiatives have united world-class, state-of-the-art video analytics and video management onto a single-platform to optimize processes and reduce costs. Arteco provides a wide range of software and network hardware solutions that integrate with third-party systems such as video surveillance, video management and access control. Arteco products are available through certified integrator partners around the world. For more information about Arteco's Video Event Management Software (VEMS) solutions, please visit https://www.arteco-global.com and follow on social media channels: LinkedIn, YouTube, Twitter and Facebook.
About Suprema
Suprema is a leading global provider of biometrics and security technologies. Suprema's extensive range of products includes biometric access control systems, time & attendance solutions, fingerprint live scanners, mobile authentication solutions and embedded fingerprint modules. Suprema has No.1* market share in biometrics access control in EMEA region and has worldwide sales network in over 130 countries and is one of the world's Top 50 security company in its turnover (ranked in A&S's Security 50, 2010-2016). For more information, please visit www.supremainc.com,
*IHS Report 2015
---