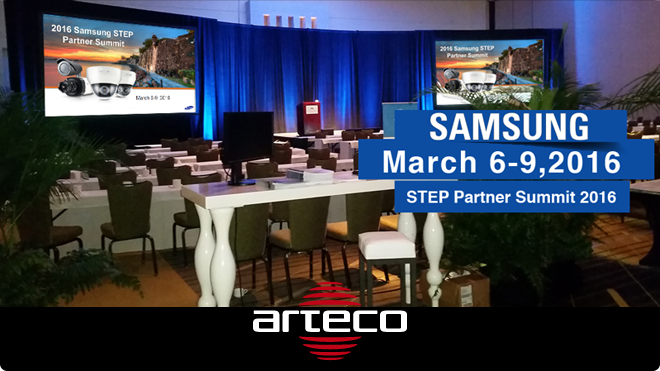 St. Louis, Mo., March 1, 2016 – Arteco, a global provider of event-driven intelligent video management solutions, will sponsor the Samsung Techwin STEP Partner Summit, being held from March 6-9, 2016, in Puerto Rico.
The event is an opportunity to showcase the capabilities of the onboard Arteco LPR App, available exclusively on Samsung Wisenet III cameras. The powerful processor mounted on the Samsung cameras and Arteco's versatile optical character recognition (OCR) algorithm combines license place recognition with high-resolution video surveillance, increasing the level of security and control of each installation while maintaining ease-of-use and optimizing resources. It is ideal for a wide range of applications including access control, parking management, border control, gate automation, residential area monitoring and more. Additionally, Arteco's integration with Samsung NVRs allows users to view the client NVR WebViewer video streams from cameras to read license plates, receive and view events in real time, search previously logged plates and review recordings.
The long-standing technological partnership between Arteco and Samsung Techwin is a result of robust research and innovation. By combining ease-of-use, reliability, comprehensive integration and an intuitive platform into a single package, Samsung and Arteco stand ready to meet the increasing demand for interoperability in the security industry today.
In attendance at the conference will be Arteco's Vice President of Sales and Business Development, Steve Birkmeier, who will participate in the Technology Partners Panel on at 10:45 a.m. Wednesday, March 9. In this panel, Birkmeier will represent Arteco to discuss the latest security and surveillance breakthroughs, enterprise functionality and integration trends in relation to its partnership with Samsung Techwin.
To learn more about the show and to register for the event, visit www.steppartnersummit.com.
About Arteco
Founded in 1987, Arteco is a global provider of event-driven intelligence solutions based in Faenza, Italy, with U.S. operations in St. Louis, Mo. With a focus on ease of use and event management, Arteco's research and development initiatives have united world-class, state-of-the-art video analytics and video management onto a single-platform to optimize processes and reduce costs. Arteco provides a wide range of software and network hardware solutions that integrate with third-party systems such as video surveillance, video management and access control. Arteco products are available through certified integrator partners around the world. For more information about Arteco's Video Event Management Software (VEMS) solutions, please visit https://www.arteco-global.com and follow on social media channels: LinkedIn, YouTube, Twitter and Facebook.
---