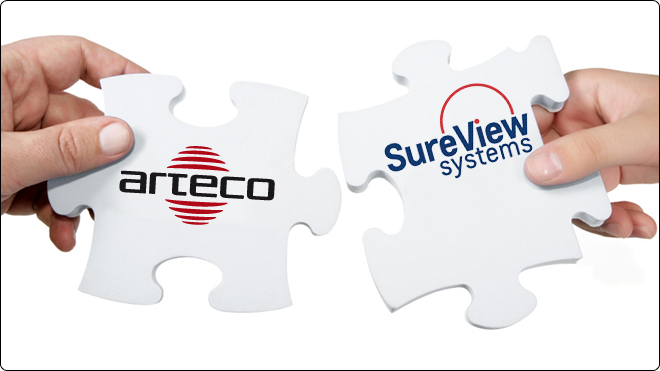 St. Louis, Mo., October 13, 2016 – Arteco, a global provider of event-driven intelligent video management solutions, announced the integration of its video event management system (VEMS) with Immix from SureView Systems. The integration with Immix enables Arteco customers to gain a higher level of situational awareness to power intelligent video monitoring efforts across multiple locations.
The integration strengthens the ability of both companies to deliver comprehensive, best-in-class surveillance capabilities. The combination of these feature-rich security management and recording platforms streamlines operations, and helps ensure security and compliance. The integration enables fully functioning video integration between the systems, allowing Arteco VEMS users to have all events from integrated security devices – such as perimeter security, building automation, fire, intrusion, license plate recognition (LPR) and video analytics events – monitored by central stations using Sureview Immix.
Arteco VEMS is a crucial component of today's powerful surveillance applications that are meeting user demands for increased security and fueling the growth of generated data. It enables users to achieve a higher level of situational awareness through the delivery of only the most relevant video data based on highly customizable user criteria.
Immix is used by private enterprises and video monitoring providers to enhance security efforts and monitor alarm activity. It is designed to drive down the cost of monitoring several systems across multiple locations, while increasing compliance and encouraging an effective, informed tactical response.
"Our integration with Arteco delivers a comprehensive video intelligence solution that enables seamless, end-to-end protection," said Stephen Tapper, Manager of Technical Services, SureView Systems. "By leveraging the capabilities of the Arteco VEMS, customers gain even greater insight into their security posture to enable faster and more effective incident response."
"We continue to look for new ways to ensure our customers have access to best-in-class technologies through strategic partnerships," said Steve Birkmeier, Vice President of Business Development and Sales, Arteco. "The integration with Immix allows us to provide a versatile video monitoring solution that is agile enough to meet the unique and changing dynamics of today's central stations and private command centers that rely on Arteco to meet their security and operational goals."
About Arteco
Founded in 1987, Arteco is a global provider of event-driven intelligence solutions based in Faenza, Italy, with U.S. operations in St. Louis, Mo. With a focus on ease of use and event management, Arteco's research and development initiatives have united world-class, state-of-the-art video analytics and video management onto a single-platform to optimize processes and reduce costs. Arteco provides a wide range of software and network hardware solutions that integrate with third-party systems such as video surveillance, video management and access control. Arteco products are available through certified integrator partners around the world. For more information about Arteco's Video Event Management Software (VEMS) solutions, please visit https://www.arteco-global.com and follow on social media channels: LinkedIn, YouTube, Twitter and Facebook.
Media Contact
Delphine Thierry
O: 832.594.1043
E: delphine@compassintegrated.com
---