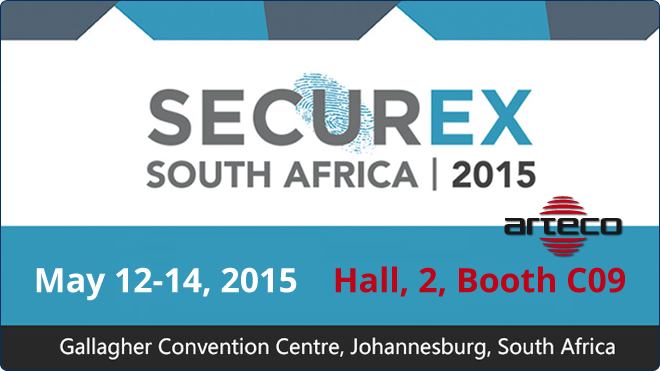 ARTECO is proud to announce it will be joining Securex South Africa 2015 as an exhibitor in Johannesburg, from May 12 to 14, at the Gallagher Convention Centre in Hall 2, Booth C09.
The event will be an opportunity to showcase the infinite possibilities of the ARTECO Next VEMS (Video Event Management Software) to the thousands of exhibition attendees. We will present all of ARTECO Next's new and exciting features: the new "Open Connector" environment which allows to integrate in an extremely easy way third-party security devices, the most complete integration with perimeter and intrusion security systems available on the market, the just-released onboard LPR App available exlusively on Samsung LPR cameras, and our feature-rich supervision environment, an innovative solution that combines video management and video analytics to security systems and building automation devices through our intuitive-yet-robust dynamic maps feature.
Securex South Africa is the largest security industry trade show in the African Continent, with over 200 market leading companies.
Find out about new and future products and stay ahead of the competition – come visit us! ARTECO: SEEtheDIFFERENCE
We can't wait to see you at the show, click here to register and get your badge: http://www.mysubscription.co.za/TISSecurex/?EventID=2
---
30 April 2015
· Category:
Events