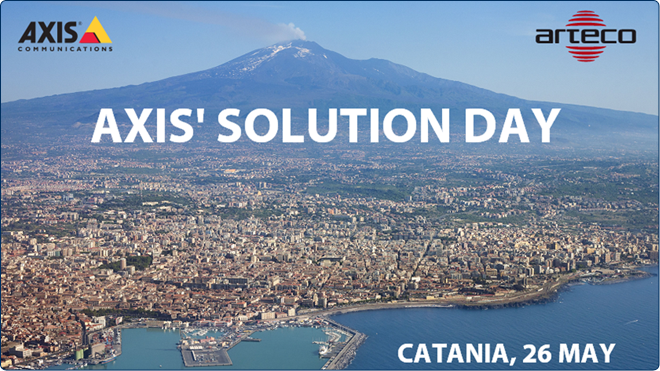 Would you like to live different experiences and seize new opportunities? Then come join us!
On May 26 at Axis' Solution Day in Catania, Axis' latest developments will be presented, including a preview of new integrations with Arteco NEXT: access control, intercom features, network speaker functionality, and more! But it will also be a unique opportunity for the presentation of Arteco's OPEN Project, an environment where different systems interact together with extreme simplicity, giving the end user a never-before-seen synthesis. Marco Barbieri, Maurizio Barbo and Valentina Campo will present all the exciting developments concerning the Arteco NEXT VEMS platform. In addition to the complete synergy with Axis products, you can also see firsthand the live integration between security and video surveillance systems, and the ease with which Arteco Everywhere can create integrations between different devices.
Organized by Axis, the Axis Solution DAYS will be held in Catania at the Grand Hotel Baia Verde, Via a. Musco 8/10, Cannizzaro-Acicastello (CT). This will be a  unique occasion to discover all the innovations by AXIS and ARTECO.
SEEtheDIFFERENCE and try it in Catania!
Axis' Solution Day – Program
Agenda
09:00 – 09:30

Welcome coffee

09:30 – 10:00

Introduzione and Corporate Presentation
Alberto Mombelli – Key Account Manager, Axis Communications

10:00 – 11:00

The Value of Quality: Axis
Donato Testa – Sales Engineer, Axis Communications

11:00 – 11:30

Coffee break

11:30 – 12:30

Arteco – SEEtheDIFFERENCE
Marco Barbieri, Business Development Manager – ARTECO Global
Maurizio Barbo, Marketing and Sales Director South Europe – ARTECO Global

12:30 – 14:00

Lunch

14:00 – 15:00

Axis New Product Presentation
Donato Testa – Sales Engineer, Axis Communications
Alberto Mombelli – Key Account Manager, Axis Communications

15:00 – 16:00

Workshop
---
7 May 2015
· Category:
Events