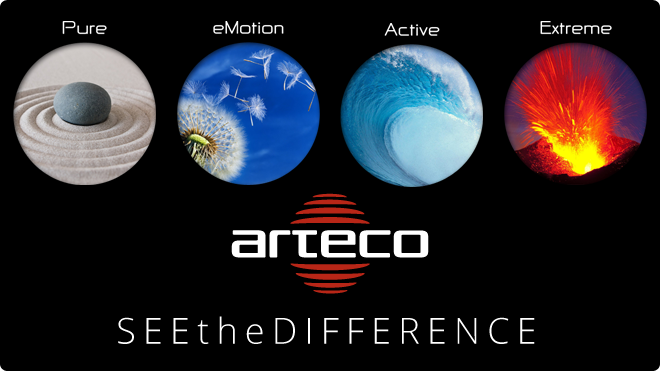 NEW LOOK AND FEATURES, SAME TRUSTED RELIABILITY!
Pure     eMotion     Active     Extreme   NEXT

SEEtheDIFFERENCE!
ARTECO chooses a complete makeover for the names of its line of famous VEMS solutions associated with its flagship platform Arteco NEXT.
We've moved toward a sleeker, more streamlined description of our software solutions to highlight the important features of each product. To start, we have indicated this in easy identifiable text in our product pages. Plus, we have simplified our product names to make it clear what each product has to offer.
The surprise addition is Pure, the sleek new software line to acceess your cameras even more quickly and easily, read below to learn more!
Pure
The "Pure" version is what you need for quick and easy monitoring of up to 20 cameras in a mono-server environment.   Take complete control of your pan/tilt/zoom (PTZ) cameras and encoders and, as you will see, PURE is the ideal solution to retrofit your analog video surveillance installation into an innovative digital state-of-the-art system, with cutting-edge IP technology.
eMotion
If you are looking for more functionality with basic built-in analytical features included, then eMotion is the right choice for you. Ready and reliable, it is the first mono-server version allowing for unlimited number of user profiles and that's not all..
Active
With ACTIVE, everything is under control thanks to the incorporated multilevel interactive maps to actively manage your video surveillance sites all at once and in real-time.
Extreme

Stay one step ahead with Extreme:   the most powerful version ever! Extreme does it all: advanced video analysis, environmental analysis, storage failover, hot-swapping, Microsoft Active Directory support and Virtual Machine all built-in and much, much more!
 NEXT

Take full control your video surveillance system from anywhere, quickly and easily at the touch of your fingertips whether you are using one or more monitors or video wall systems.
---

Necessary

Statistics

Targeting