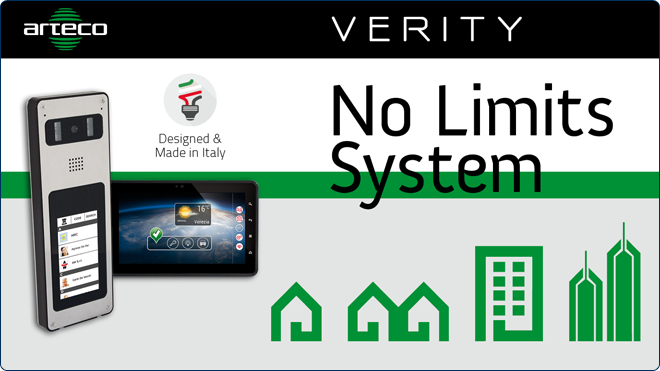 Arteco VERITY, the new state-of-the-art IP Video Door Station with cutting edge technology by Arteco, offers many features to help you gain the maximum results in efficiency and performance:
Easy Installation – See how easy it is to install VERITY with Plug & Play and connecting from one monitor to the other, whether it is internal or external, has never been easier: just a few clicks on the monitor and you even have web diagnostics available on the browser thanks to internet;
Reliability – Every connected device to the doorstation is PoE guaranteeing maximum performance over time.  VERITY also has a PC door service mechanism incorporated with advanced functions: read and send messages, activate alarms and SOS in case of emergencies, open and close gates and external entrances-an excellent integration with Arteco MAPS which can be accessed on Arteco-Logic NEXT;
Performance – High Definition video resolution  at 30 frames per second (FPS) lets you see images and recordings like never before. Moreover, external calls can be forwarded to smartphones and tablets thanks to the wi-fi connection.  Finally, a number of other services can be configured and are available from the monitor like the weather, news, alarms and more thanks to the incorporated web browser. 
Flexibility – Thanks to the technology behind IP, there are no limits to the number of devices you can connect to VERITY, including monitors, virtual concierge door service, CCTV, I/O devices, and lots more.  See how VERITY seamlessly integrates with Arteco hardware and software:
                     *  CCTV integration with Arteco MOBILE
                    *  Video recording and management with Arteco-Logic NEXT
                    *  Video planning with Arteco MAPS
The New Frontier of Total Control….ARTECO-VERITY!
---