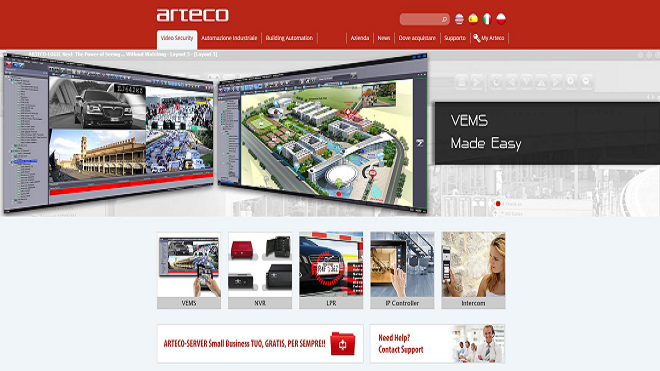 Arteco's web site recently underwent a major make-over and is now ready to show off its fresh new design. The new site is easier to navigate, is user friendly and aesthetically improved.
As you explore the new site, one of the first things you'll notice is the rotating photo banner on the home page in Full HD. The home page also provides easy access to recent blog posts, videos, and news items to make your visit to www.arteco-global.com a complete visual and informative experience.
Building automation now includes two products, Arteco Everywhere and Arteco Verity. The excitement is growing for the imminent launch of our new building automation IP video door station which should prove to be an exceptional addition to the Arteco family of products. Other photographs and colorful text describing the products provide the visitor for an unforgettable web experience.
Read through all of our news items and access our recently developed support area or learn more about Arteco in the company area. All of the main areas of our site have not been left behind but you will now be able to read through and navigate with greater ease and visual satisfaction.
The new site makes it easy to connect and share Arteco with others when you sign-up for our email newsletter or click to our social media pages. On our news area, posts are neatly-organized and easy to read. Blog posts provide updates about Arteco and interesting partnership and product developments. See also where we will be participating in upcoming events and trade fairs around the world.
Feel free to let us know your thoughts and stay connected with our socials and news section for further updates!
---

Necessary

Statistics

Targeting