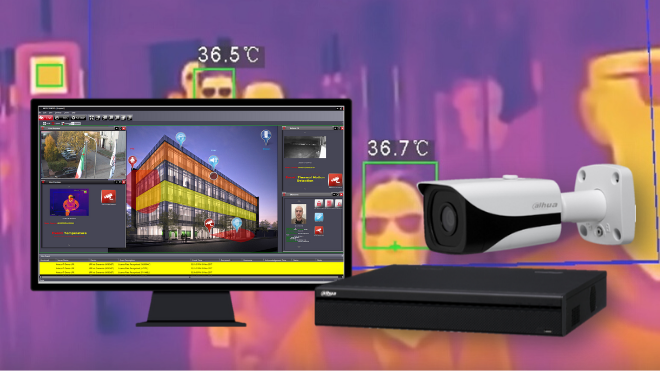 The partnership between Arteco and Dahua strengthened
in the fight against Covid-19
May 20, 2020 – The global Covid-19 pandemic has marked the definitive success of thermal detection cameras, transforming them into a real necessity for companies and infrastructures that have to manage a remarkable number of visitors and that must always guarantee safety.
Thanks to the partnership between Arteco and Dahua, customers around the world will be able to manage security systems that include body temperature detection through a single interface for proactive alarm management.
The integration between the Dahua thermal cameras and the Arteco VMS allows you to view the detected temperature in live streaming and playback on the recorded video, receiving notifications for those that exceed the alarm threshold established in the health regulations.
In addition, the Arteco VMS allows you automatically trigger third-party systems every time an alert is generated, such as closing a door or a bar; activating audio signaling devices, such as sirens or speakers
, or visual, such as signage or lighting.
The alarms associated with the video, in addition to being processed in real-time, are also stored on the system, giving the possibility of being able to carry out searches a posteriori, and possibly export videos.
All this is in compliance with the regulations on video archiving and Privacy, since thanks to the Arteco Privacy Masking module, images can be viewed and recorded blurring people's faces.
"We are on the front line to respond to this emergency. Our technology and that of Dahua, together, can be a valid solution to guarantee the safety and support the prevention work that has been carried out in recent months ", says Giampaolo Sabbatani, CEO of Arteco Global.
To summarize, thanks to the integration between Dahua thermal cameras and Arteco VMS you can:
View in live streaming and playback the temperatures measured directly on the video.
Activate alarms based on the threshold temperature set by the health authorities.
Associate the alarm with audio, email or push notifications.
Search later in the event log quickly and intuitively.
Preserve privacy through Arteco's Privacy Masking.
The integration process is immediate through Arteco Gateway and the Open Connector integration platform.
---