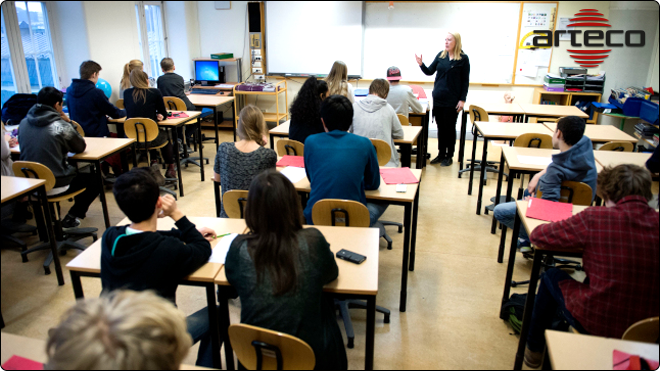 Security in schools and campuses is probably one of the most controversial topics in the security industry today. In order to better understand the challenge of safe education we need to analyse how schools are built in these days, how the space is divided and how teaching activities have changed.
All those who have been at school years ago can now perceive the evolution of the educational system in the 21st century. Teaching methods and learning processes can be incredibly influenced by the environment, for this reason new schools are designed to create welcoming rooms for small groups of students and schoolchildren to ease discussion and debate among the parties involved in the educational relationship. Socialization is also part of the educational path and friendly open halls are the most appropriate space where to encourage the encounter of students and school staff.
What's the space for security in today's schools? Unfortunately, we all know how fragile and permeable these buildings can be, but there is an interesting approach to environmental design that is putting security first.
Crime prevention through environmental design (CPTED) is based on three fundamentals:
Natural Surveillance – the goal is designing buildings that improve the visibility of potential offenders and support the development of natural surveillance by the community that lives in that environment.
Natural Access Control – the possibility to create thresholds and controlled access to enclosed environments using a single, clearly identifiable points of entry/exit.
Natural territorial reinforcement– it implies the clear identification of a public space and a private property to easily identify intruders.
To put into practice these precepts, architecture needs to meet security and Arteco is ready to help, providing technology designed to manage complex systems of building automation, security and surveillance.
Locking technology
In case of dangerous intrusions or catastrophic events (e.g. fires), the ability of locking classroom doors from the inside or the remote locking of perimeter doors can prevent the intrusion itself and create a safe space for those who are in danger. Arteco integrates the most common smart locking solutions, can receive alarms signals in case of break-ins and directly mange the opening of automated doors.
Maintenance
Maintained infrastructures, with a well-function lighting and security systems, are less likely to attract attacks and dangers. Arteco VMS can also manage notifications about the state of the systems and ease a prompt intervention of the maintenance staff.
Fences
Fences can be extremely effective against intruders and Arteco can made them intelligent. Read more
Access through a single secured door
A single entry can maximize the efficiency of accesso control technologies. Using this kind of devices can make the difference in school security: Arteco is partner with the most renowned manufacturers of access controls and, thanks to its VMS, guarantees indisputable matching with video footage recorded at integrated surveillance systems.
Concentric rings of control
It is a functional security tip that can be valid in any kind of building: it starts with fencing the perimeter, includes the design of inner streets and paths optimized for the video surveillance of vehicles and pedestrians, the control of entries and other locking strategies.
Fire alarms
A classic of security that must be managed carefully. The integration of fire alarms into Arteco software allows immediate responses and effective verification of the events.
Sound communication systems
Sound communications, whether automatic or activated by the security personnel, can be very effective in case of disorder due to panic: for example, it can be used to give instructions to teachers and students to lock classroom doors before dangerous events may occur. This is also possible through Arteco, that provides a single interface to give security staff immediate and contemporary access to security cameras and sound communication devices.
CAMPUS SECURITY: CASE HISTORIES
Arteco has extensive experience in school security. If you want to know more, read the case histories on the Washington Collage University of Saint Louis, Missouri and the Campbell University of Buies Creek, Nord Carolina.
---