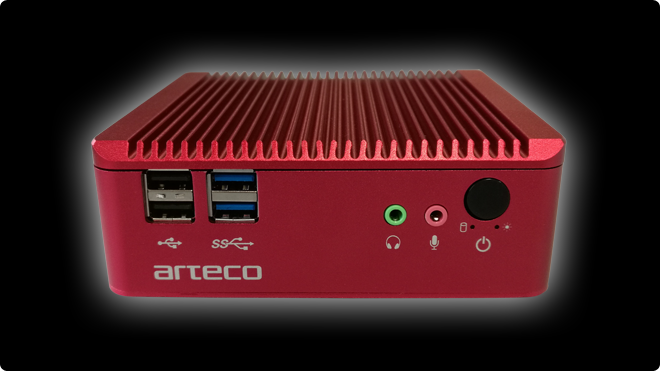 The new Arteco-3000 NVR eases installation and management, reduces overall costs
St. Louis, Mo., November 2, 2016 – Arteco, a global provider of event-driven video management solutions, introduces a strategic update to its technology portfolio, designed to increase video management capabilities for small-to-medium surveillance deployments. The new Arteco-3000 network video recorder is optimized for high-performance and reliability in a small form factor, and designed for ease-of-integration.
Arteco-3000 supports 12 IP cameras at full HD resolution and is ideal for small enterprises, retailers, small businesses and distributed, multi-site installations, such as chain stores and logistics centers. The platform's 64-bit architecture enables users to address today's security and operational needs while ensuring scalability with evolving video data requirements.
The NVR platform delivers the performance and reliability necessary for the robust video display and automated monitoring today's modern organizations require. It enhances visual viewing through detailed event displays and alarms that streamline investigations and informed response for focused teams.
The Arteco-3000 NVR is also designed to offer simplicity and performance. With a plug-and-play approach and an intuitive user experience, installation and system management are streamlined. The completely integrated package reduces training and deployment costs, and enhances integration through close compatibility with various third-party devices. It is also expandable with any Arteco video event management system or NVR.
"With the new 3000, Arteco delivers on its promise to deliver intelligent and intuitive video management that empowers SME customers to exceed security and business objectives," said Steve Birkmeier, Vice President, Sales and Business Development, Arteco. "Arteco-3000 also serves as an entry point to the benefits of event-driven intelligence, an expanded video category that delivers significant benefits to the security and operations teams."
Arteco-3000 is the latest addition to Arteco's comprehensive portfolio of technology solutions designed for security, video and operational monitoring. The company's wide range of video intelligence solutions helps solve complex business and safety challenges for customers around the globe.
Media Contact
Compass Integrated Communications for Arteco
Delphine Thierry
Account Manager
O: 832.594.1043
E: delphine@compassintegrated.com
---