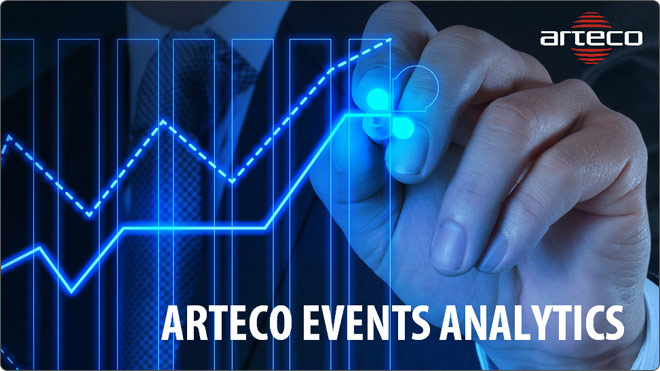 User-friendly interface brings interactivity and high-level analysis to video security
St. Louis, Mo., March 15, 2016 – Arteco, global provider of event-driven video surveillance solutions, announced today the release of Arteco Event Analytics, an intelligence-based platform that improves, simplifies and enhances the event management by applying an additional layer of intelligent monitoring to video surveillance and business intelligence applications.
An innovative Web-based platform, Arteco Event Analytics helps users determine valuable data from non-critical information. It drives new levels of intelligence building through reporting of alarm events to streamline video monitoring while aiding in improving processes within an organization. Event Analytics delivers the ability to monitor, analyze and compare the health status of connected system and devices for fast and effective diagnosis.
With an intuitive, visually driven interface, Arteco Event Analytics enables users to easily view, create and export data on security events to drive more efficient investigations, and proactive monitoring and response. Additionally, a reporting tool provides the ability to analyze and compare all the events generated by an installed device. This information can be used to further optimize operations and coordination of efforts for stronger security protocols and more effective incident management.
Arteco Event Analytics is a powerful and flexible solution that can interface to a single system as well as a large number of servers across multiple sites. Arteco Event Analytics can be used directly on Arteco NEXT, or via smart devices to ensure enterprise mobility.
"Through the Event Analytics tool, customers can access the most valuable security information and break it down in a way that makes sense to the organization's specific business requirements," said Steve Birkmeier, Vice President of Sales and Business Development, Arteco. "Event Analytics truly embodies the concept of event-driven intelligence by relieving the burden of data monitoring on security teams, allowing operators to focus and deploy resources more efficiently and cost-effectively."
For more information, visit the Event Analytics Web page.
Additional Resources
About Arteco
Founded in 1987, Arteco is a global provider of event-driven intelligence solutions based in Faenza, Italy, with U.S. operations in St. Louis, Mo. With a focus on ease of use and event management, Arteco's research and development initiatives have united world-class, state-of-the-art video analytics and video management onto a single-platform to optimize processes and reduce costs. Arteco provides a wide range of software and network hardware solutions that integrate with third-party systems such as video surveillance, video management and access control. Arteco products are available through certified integrator partners around the world. For more information about Arteco's Video Event Management Software (VEMS) solutions, please visit https://www.arteco-global.com and follow on social media channels: LinkedIn, YouTube, Twitter and Facebook.
Media Contact
Delphine Thierry
CompassPR for Arteco
delphine@compasspublicrelations.com
O: 832.594.1043
---