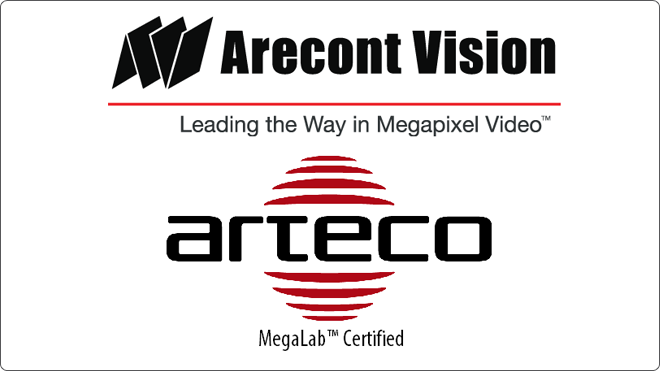 St. Louis, Mo., March 22, 2016 – Arteco, a global provider of video event management systems software solutions, announced today that Arteco Video Event Management Software (VEMS) successfully passed integration testing at the MegaLab™ by Arecont Vision. Arteco's event-based video intelligence platform now integrates with Arecont Vision megapixel cameras, as verified in the dedicated IP video testing facility.
The integration strengthens both companies' ability to deliver comprehensive, best-in-class security and business services to joint customers across the globe. The combination of these feature-rich, open video surveillance and recording platforms helps ensure security, control liability and compliance.
"The Arecont Vision MegaLab enables us to prove an advanced level of integration with our technology partners in a hands-on environment," said Jason Schimpf, Director of Partner Relations, Arecont Vision. "The MegaLab certification provides joint customers with seamlessly integrated networked solutions, which helps further enhance the adoption of IP-based technologies in a wide variety of market applications."
The MegaLab, located at Arecont Vision's headquarters in Los Angeles, ensures a high level of integration between Arecont Vision's line of megapixel cameras and industry-leading video management applications. The MegaLab is part of Arecont Vision's Technology Partner Program, which was designed to further support partnerships between the company, and VMS and software platform providers through tighter integration, sales collaboration and joint marketing.
"Our continued focus on superior integration with today's leading technology solutions demonstrates our commitment to providing customers with seamless technology options that best fit their specific security and business requirements, while strengthening compliance and safety," said Steve Birkmeier, Vice President of Sales and Business Development, Arteco. "Additionally, close technical partnerships are the foundation of our continued efforts to deliver increased flexibility to partners and customers, and we look forward to continuing to build out robust integrations with key partners."
Video event management software (VEMS) is a crucial component of today's powerful surveillance applications. It enables users to achieve a higher level of situational awareness than previously thought possible. Arteco delivers intelligent solutions that allow users to gain more insight into security processes and overall operations to ensure safety is maximized.
To learn more about Arteco, visit the company at ISC West 2016 in Las Vegas at booth #6097. Email the U.S. team to schedule a one-on-one meeting.
To learn more about Arecont Vision, visit the company at booth #8045 or click on their webpage here.
Arteco@Arecont webinar

---