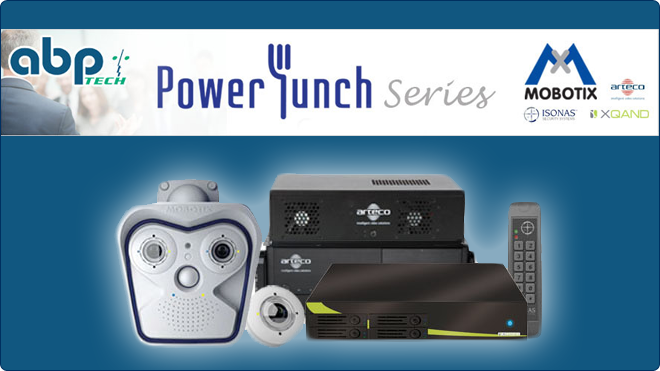 ABP Technology is bringing you the very best of our popular IP Technology Road Shows in the form of a Power Lunch series. After wrapping up a very dynamic cross country trek and meeting with integrators and vendors from across the US and South America, one product in particular created the most excitement among our resellers: the cutting edge technology of Arteco.
Join us for a special Power Lunch with Arteco, Mobotix, ISONAS and XQAND
Arteco – One of the most unique Video Management Systems on the market
Arteco an Italian designed and engineered VMS with attractive pricing and complete suite of Video Analytics including both Area (violated area, trip-wire, loitering) and Object Analytics (abandoned/removed, counting, speed threshold).
ABP Tech will also be presenting:
Mobotix – complete high resolution video
Mobotix is a leading pioneer in network camera technology and offers complete high resolution video. Its decentralized concept has made high-resolution video systems cost efficient. 
ISONAS – scalable access control without all the fuss
ISONAS offers scalable Access Control without all the fuss. With traditional Access Control you need more equipment, more cabling, more complexity, more time, and more cost.
XQAND – feature rich NAS purpose built for use with Mobotix
XQAND is purpose built for use with Mobotix cameras with built in camera setup, MxRemotePreview for fast remote video retrieval, and Call Home Monitor to proactively let you know if there are any problems.
Come visit us, grab a free lunch and learn about the products you should be using in your upcoming projects.
The event is limited to 20 people, so best to sign up as soon as possible.
Please contact us at sales@abptech.com with any questions regarding the event. We hope to see you there.
Dates and Locations:
Portland – October 31, 2013
Atlanta – November 6, 2013
Miami – November 7, 2013
New Jersey – TBD
Houston, Austin or Dallas – TBD
Click here to register for any of the above dates!
For more information, email amychlimper@artecous.com.
---
31 October 2013
· Category:
Events