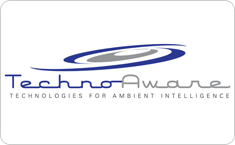 [:en]TechnoAware[:it]TechnoAware
www.technoaware.com
TechnoAware produces technologies and solutions for ambient intelligence.
Established in 2003, TechnoAware stems from the experience and expertise of the University of Genoa's ISIP40 Research Group, since more than 25 years one of the foremost video analysis and ambient intelligence international scientific community expert.
TechnoAware refers to producers, system integrators, installers and solution providers, by offering
Proprietary products
Study and development of ad hoc solutions for specific projects
Joint R&D activities
Comprising entirely of specialized sector researchers and technicians, TechnoAware is based on
Proprietary technologies
° Modular and custom solutions
Technical and scientific expertise
° High quality and performance
Continuous technological research and innovation
° Cutting edge products
TechnoAware has been a member of the Integrated Intelligent Systems District (SIIT) since 2006 and is the founding partner of the SIIT-SME Consortium.
TechnoAware has been a member of the MUR Research Laboratory Register since 2005.
Mas